Wednesday, May 4, 2011
"All The News You Never Knew You Needed To Know ...Until Now."

May 04 2011 Travus T. Hipp Morning News & Commentary: Not 'Snake'... 'Hydra' - Western Organizational Structures And Methods Won't Win The War On al-Qaeda



[Pop Out Player? Click Here]
Prefer An MP3 Playlist?
It's Here: [128Kbps MP3 15:47 Minutes]
Other Audio Formats Available [ Here ]



Razer Raygun Says:

♥

Sharing IS Caring!

♥
In The News:
Thanks this morning to ChrisM, my MP3Angel, for supplying the news and commentary audio files.
[
After the commentary, "Rivers of Dub" will flow as the Asian Dub Foundation gets remixed by DJ Spooky (That Subliminal Kid) on Adbuster's CD compilation Live Without Dead Time (OneBigTorrent.org, currently showing 4 'seeds', and legal to download). Courtesy of the respective artists... And The Media Foundation
]
»
There are no reports out of Misrata Libya
after the government was reported to have mined the harbor. If the Libyan government has taken the city they again control the Western part of the country.
»
However there's LOTS of news about the killing of Osama bin-Laden
from reports he was unarmed (
with cash totaling 500 Euros and two telephone numbers sewn into his clothing when he was killed, No statement on WHO'S currency however.
), to news that the US government has changed the story of the assault on his compound, to the allegation that
no torture was used
to find him (
truly unlikely because it would discount any torture being used by government agents in the last four year of pursuit
), to
a poll showing
that the citizens of the US believe that there WILL BE "blowback" but the killing of bin Laden "...has raised confidence in the ability of U.S. to win."
»
Congress will hold hearings on whether or not the killing of Osama bin-Laden was a game changer
allowing the US to get out of Afghanistan completely, and perhaps change our military's relationship and strategy in regard to the "War On Terror". MUCH more on "What to do" in today's commentary.
»
Do you suppose the Buddhist governor did it on purpose? The Death Penalty is 'off the table' for at least the rest of the year in California
as governor Jerry Brown cancels the new execution chamber project which was going to use new chemicals and procedures AFTER San Quentin's warden had let go his previously trained executioners who knew the procedure for the chamber that is in place. More.
»
The Arctic Ocean is warming and the Ice Sheet is disintegrating according to an Expert Working Group
which claims the temperatures have been up for the last 6 years, the highest on record as a matter of fact, leaving the ice thin and there is open water all the way up to the Pole. There is "Feedback Effect" meaning as more ground gets exposed there's less reflectivity and more heat absorption leading to more earth being exposed leading to more warming... The 'Snowball Effect' as it were. More, including a link to the study from the
Barents Observer
.
»
It's just as well... George W. Bush will not attend tomorrow's "Ground Zero" ceremony
to reflect on the death of Osama Bin-laden.
In OTHER News:
Never forget They shoot White middle class young people too (but unlike the killing of people of color in ghettos around America at the time, they claimed to regret it).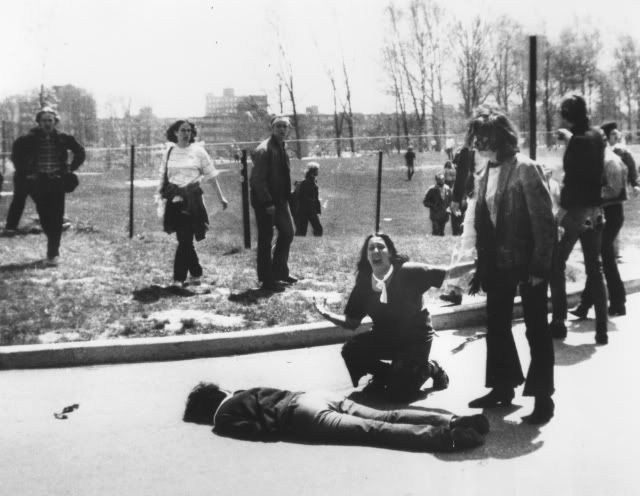 On May 4, 1970, just days after the announcement to send U.S. troops into Cambodia
, a unit of under-trained scared young Ohio National Guardsmen fired into a crowd of unarmed anti-war protesters at Kent State University and changed the course of history. Sixty seven gunshots and thirteen seconds later there were four dead unarmed students, blood on the hands of the Ohio National Guard, and college students across America began ripping their institutions of "higher education" a new asshole.
The "Days of Rage" promised by the Weatherman faction of SDS at Chicago became years of major disturbances on campuses large and small throughout the US and the rest of America.
The rallying cry was...

Bring the war HOME!
An overview of the events leading up to that day
is here
.
This... from that:
Perhaps most importantly, the statement signed by members of the Ohio National Guard was viewed by them to be a declaration of regret, not an apology or an admission of wrongdoing:

In retrospect, the tragedy of May 4, 1970 should not have occurred. The students may have believed that they were right in continuing their mass protest in response to the Cambodian invasion, even though this protest followed the posting and reading by the university of an order to ban rallies and an order to disperse. These orders have since been determined by the Sixth Circuit Court of Appeals to have been lawful.

Some of the Guardsmen on Blanket Hill, fearful and anxious from prior events, may have believed in their own minds that their lives were in danger. Hindsight suggests that another method would have resolved the confrontation. Better ways must be found to deal with such a confrontation.

We devoutly wish that a means had been found to avoid the May 4th events culminating in the Guard shootings and the irreversible deaths and injuries. We deeply regret those events and are profoundly saddened by the deaths of four students and the wounding of nine others which resulted. We hope that the agreement to end the litigation will help to assuage the tragic memories regarding that sad day.
»
In America one has to read the British news to find out about the death of an American Neo-Fascist.He said:
"You guys get your Glocks cocked and get ready to rock."
This little "Cock" got "Glocked" instead. Live by the gun... die by it. Buh-Bye Jeff Hall... It's sad that your child did such a thing, but you will not be missed and the world WILL BE a better place for it.
White supremacist leader 'shot dead at home by his young son'

By Daily Mail Reporter
2 May 2011

The young son of a white supremacist leader has been detained after his father was found shot dead at their home.

Jeff Hall, 32, a regional director for the National Socialist Movement, was killed in the early hours of Sunday morning by a 'known assailant' at his house in Riverside, California.

Police removed two handguns from the property and questioned one of his five children, believed to be a ten-year-old boy.

They have not yet ruled out the possibility that the shooting was deliberate.
o
o
o
A New York Times reporter attended a meeting of the local group at his home the night before he was killed, where Mr Hall called on members to join him for militia-style raids for illegal immigrants along the Mexico-Arizona border.

He said: 'This is a very active area right now. You guys get your Glocks cocked and get ready to rock. We're going to the border. That's how we do it.' [More @ Dail Mail [UK]]
This is Razer Raygun saying 'Happy Motoring America...' Enjoy it while you can.
(...and try not to let your government kill too many 'dusky natives' in the process OK?)
-30-
Audio hosting courtesy of: [www.archive.org]Travus T. Hipp's Commentary Archive Is [ Here]Search the archive by topic [
Here
]Cabale News RSS Feed Via Internet Archive
Creative Commons CopyrightCabale New Service, KPIG Radio, and KVMR radio.Listen to KVMRRecorded & transcribed by Razer Raygun @ Razed By WolvesPostings Auntie Imperial And Razer Raygun Have Done Lately Are [Here]
The Consolidated Postings in RSS format [Here]Travus T. Hipp Fan Page @ Facebook (unaffiliated)
In accordance with Title 17 U.S.C. Section 107 and The Berne Convention on Literary and Artistic Works, Article 10, the news clippings, audio, and images used in this posting are made available without profit for research and educational purposes.
---
There Have Been
Visitors To Cabale News & Razed By Wolves
Thanks For Stopping By
..