Wednesday, February 17, 2010
In The News:This morning's News & Commentary audio files have been supplied by, and are courtesy of, my MP3 Angel ChrisMThe tactics change
in the battle for Marjah Afghanistan as US Marines begin going door-to-door to vet(sic) the citizens, who have moved to the rooftops, preventing artillery shelling and air strike activity. The city's government buildings have been seized and America is going to roll out it's NEW! IMPROVED! government-in-a-box complete with Human Terrain Teams and other trappings of a HuxWellian POLICE STATE. How long the appointed individuals in that government-in-a-box might survive in a society where everyone owns a high powered weapon and BIG knives remains to be seen. Five US Marines were killed overnight.
Toyota is shutting down
manufacturing facilities in Tennessee and Kentucky for two weeks. These are non-union shops with none of the ancillary benefits or strike rights.
The 'Tea Bag Party'
is being wooed by the Republicans now that the party has been authorized to run candidates in the Nevada election cycle.
YES! John Mellencamp
, an awesomely talented musician with a background that could only be described as 'Social Activist' may run in the Indiana election to fill the seat being vacated by Demopublican war supporter Evan Bayh.
The "second in command of the Afghan Taliban"
continues to be interrogated by Pakistan's ISI under the watchful eye of the CIA even as any information obtained from him gets stale and the Taliban claims he wasn't a leader of anything... which is probably correct in the realm of affinity oriented, horizontally integrated guerrilla organizations, but he may know tidbits about all the players, even if he isn't savvy to their whereabouts or plans.
The Obama administration
approves $8 billion dollars in federal funding to upgrade and develop pre-existing nuclear facilities in Georgia.
Counterpoint:
"Wall Street has refused to finance nuclear power for more than 30 years, rendering new construction impossible. The Obama administration, in a move to placate Senate Republicans, proposes to fund new power reactors with some $54.5 billion in federal loan guarantees. Because of the way the guarantees are structured, the actual loans will be made by the Federal Financing Bank out of the U.S. Treasury. Last year, the Government Accountability Office estimated that these loans have more than a 50-50 chance of failing. ... [D]espite Obama's rhetoric about reshaping America's energy future, he's asking for a budget that would have the Energy Department continue to spend 10 times more on nuclear weapons than energy conservation." [In Full]
MAYBE Americans are getting smarter
, but they're more than likely getting healthier. Whole Foods supermarkets profits are up 71% in an otherwise bleak US consumer economy.
One last item...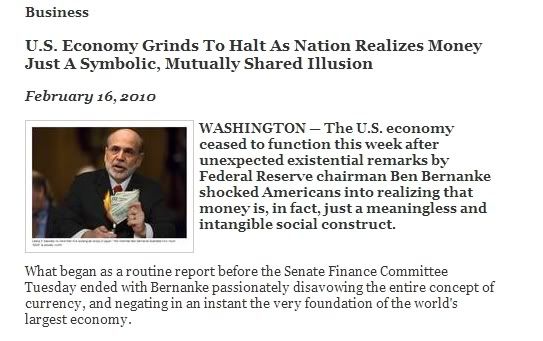 [
Here
] For More
-30-
Audio hosting courtesy of: [www.archive.org]Travus T. Hipp's Commentary Archive Is [ Here]Search the archive by topic [
Here
]Cabale News RSS Feed Via Internet Archive
Creative Commons Copyright
Cabale New Service, KPIG Radio, and KVMR radio.
Listen to KPIG
,
Listen to KVMRRecorded & transcribed by Da' Buffalo Amongst Wolves

Da' Buffalo's Google Reader Shared Items Feed is [Here]
View what's current without a feed reader [Here]

In accordance with Title 17 U.S.C. Section 107 and The Berne Convention on Literary and Artistic Works, Article 10, the news clippings and images used in this posting are made available without profit for research and educational purposes.
---
Related @ IceRocket:
Travus T. Hipp
,
Cabale News Service
,
KPIG
,
Politics
,
News
,
Alternative News
,
U.S. Foreign Policy
,
U.S. Domestic Policy
,
Breaking Politics News
,
Realpolitik
,
Republican Family Values
,
Social Justice
There Have Been
Visitors To Razed By Wolves & Cabale News
Thanks For Stopping By
.
.