Monday, February 1, 2010
In The News:Don't worry little people...
It's just the machines talking amongst themselves.
The communication takes place in the "Bleep Bloop" dialect somewhere between 6:05-6:30 Human Commentary Time.
In regard to the commentary, Da Buffalo thinks every child ought to learn the empowering
true meaning
of the word "Anarchism".
"
A
" is for Anarchy, "
B
" is for Black Bloc, "
C
" is for Critical Mass, "
D
" is for...
The budget 'bomb' drops today
and it 'delivers' a $3.8 TRILLION dollar 'payload'. It now includes our illegal wars in Afghanistan and Iraq, unlike the Bush administration's ploy of separating those funds from the budget numbers, and it also immediately eliminates the budget for NASA's 'back to the moon using manned spaceflight' project. By the time it gets signed by the president, expect no resemblance to what's 'in the book' right now.
The Washington Post takes a look at the "
Early winners and losers from Obama's proposed 2011 budget
"
A USAID program contractor
, Checchi & Company Consulting, that had
donated to the Obama presidential campaign
has had it's
$25 million dollar no-bid contract
cancelled. It violated the Obama administration's no-go for no-bid contract policy.
U.S. Humanitarian Aid not given:
(The Pentagon claims the flights will restart sometime today but as of Saturday...) The US cancelled flights for the critically wounded from Haiti: "
The US military on Saturday said it had stopped medical evacuations of critically injured Haitian earthquake victims
until a row over who will pay for their care is settled." "...Given concerns about the strain on domestic health capacity".
But the ones that stay
on Haiti... WHO steps in... over
fears of 'waterborne epidemics'
.
Haitian aid update:
U.S.
missionaries reject Haiti child-traffic charges
claiming to be "
HELPING
" Haitian 'orphans' "while Prime Minister Max Bellerive denounced the group's "illegal trafficking of children." and Social Affairs Minister Yves Christallin said "
This is an abduction, not an adoption
,"
Hakimullah Mehsud
, leader of the Taliban in Pakistan
has allegedly been killed
as the Taliban opens offensives throughout the country. "A Taliban source
denied the report to CNN
, saying that Mehsud has simply gone "underground" after being targeted by drone attacks."
Today is the 50th anniversary
of four college students sitting down at a Woolworth's counter in Greensboro North Carolina: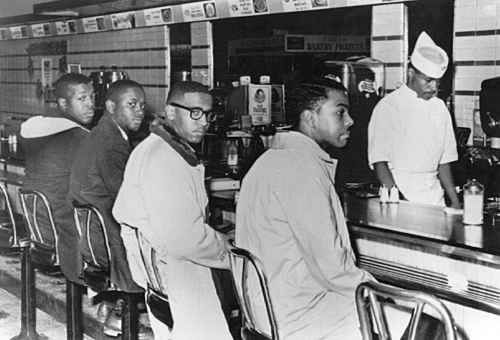 ...and refusing to leave.
Even to this day, journalists, lawyers, and investigators race against time to find, try, and convict the racists, KKK members, and yes, even 'ordinary people who did horrible things' targeted against black civil rights protestors and supporters in the years that followed.
More about that at The Civil Rights Cold Case Project
Quote
: "
To date, every civil rights murder case that has been reopened and successfully prosecuted was the direct result of an investigation initiated by a journalist.
"
-30-
Audio hosting courtesy of: [www.archive.org]Travus T. Hipp's Commentary Archive Is [ Here]Search the archive by topic [
Here
]Cabale News RSS Feed Via Internet Archive
Creative Commons Copyright
Cabale New Service, KPIG Radio, and KVMR radio.
Listen to KPIG
,
Listen to KVMRRecorded & transcribed by Da' Buffalo Amongst Wolves

In accordance with Title 17 U.S.C. Section 107 and The Berne Convention on Literary and Artistic Works, Article 10, the news clippings and images used in this posting are made available without profit for research and educational purposes.
---
Related @ IceRocket:
Travus T. Hipp
,
Cabale News Service
,
KPIG
,
Politics
,
News
,
Alternative News
,
U.S. Foreign Policy
,
U.S. Domestic Policy
,
Breaking Politics News
,
Realpolitik
,
Republican Family Values
,
Social Justice
There Have Been
Visitors To Razed By Wolves & Cabale News
Thanks For Stopping By
.
.