Monday, January 4, 2010
"All The News You Never Knew You Needed To Know ...Until Now."

January 04 2010 Travus T. Hipp Morning News & Commentary: 'Modern Civiization'... A Threat To Itself - How COULD Middle Class Muslims Become Suicide Bombers And Terrorists? Because They Became 'Western-Civilized'
[Pop Out Player? Click Here]
Prefer An MP3 Playlist?
It's Here: [192kbps VBR 14:16 Minutes]
Other Audio Formats Available [ Here ]
Twitter This Commentary
In The News:
The
new this year is just as bad as the last year - Security for our Special Forces Forward Operating Base in Khost Afghanistan (a drone launching site) has been breached and an Afghani national, being preened as an informer, went into a meeting un-searched with a group of approximately 20 CIA intelligence analysts and 'special operators' then blew himself up, killing 7 and wounding 13... Also 4 more soldiers were killed in the same area over the weekend.
What
WOULD drive someone to do something like that? (
beyond the usual war-related rationales, considering the bomber was most likely already 'turned' or the CIA wouldn't have let him anywhere near their conference
)
Look at it this way... (with a
H/t to Juan Cole
)
"The Taliban suicide attack that killed a group of CIA agents in Afghanistan on a base that was directing US drone aircraft used to attack Taliban leaders was big news in the US over the past week, with the airwaves and front pages filled with sympathetic stories referring to the fact that the female station chief, who was among those killed, was the "mother of three children."

But the apparent mass murder of Afghan school children, including one as young as 11 years old, by US-led forces (most likely either special forces or mercenary contractors working for the Pentagon or the CIA), was pretty much blacked out in the American media."
[In Full]
The
Afghan parliament has rejected 70% of UnoCal consultant/'president' Karzai's cabinet appointments. Some of whom are connected to the Opium trade (like Karzai himself, who's brother-in-law has CIA/drug smuggling connections) or the Talib, who the US is paying indirectly not to attack our forces.
If
you like Afghanistan, you'll LUV Yemen... Yemen has some of the most inhospitable terrain in the world and now, after an alleged al Qaeda suicide bomber from Nigeria tries to take out a plane bound for Detroit, the US, the British, and France, have closed their embassies and we're preparing to reinforce the Yemeni army. The Saudis are already fighting a border war with Yemeni rebels and the US has been committing drone attacks and covert operations for a number of years. Al Jazeera has a lucid take: *
The $30bn pair of underpants
*
More
on Yemen,and the rest of America's global warmongering, see "
2010: U.S. To Wage War Throughout The World
" at The Centre for Research on Globalisation
In
Iraq, for the first month since we invaded, there were zero COMBAT ASSOCIATED US deaths.
On the other hand, the casualty count
should
be down because we pulled out of the urban areas, right?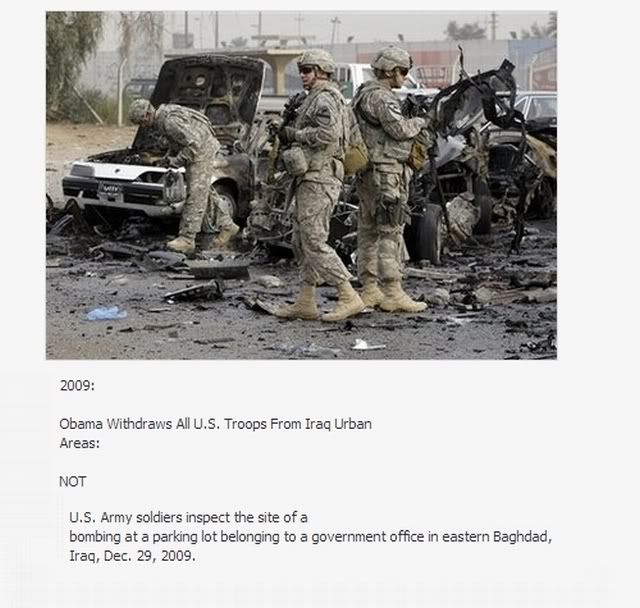 Riiiiight!
In
Sacramento the legislature is back in session and the state is in danger... $21 billion dollars in red ink needs to be resolved over the next few months. Expect more budget cuts in education and social services... if that is possible.
For
more on The impoverishment of Americans without resources see:
*Living on Nothing but Food Stamps*
"About six million Americans receiving food stamps report they have no other income, according to an analysis of state data collected by The New York Times. In declarations that states verify and the federal government audits, they described themselves as unemployed and receiving no cash aid, no welfare, no unemployment insurance, and no pensions, child support or disability pay." (Interactive displays and graphics on site) [In Full]
Being Blackwater (Now Xe) means never having to be convicted - The Blackwater personnel who killed a number of unarmed civilians in Mansour Square Iraq claiming that an incident that happened hours before had made them 'jumpy', have had their cases dismissed on a technicality "overlooked" by US attorneys in the last days of the Bush administration.
[
After the commentary... Man it's incredible! The Subdudes. Courtesy of the respective artists and KPIG radio Freedom California Earth
]
-30-
Audio hosting courtesy of: [www.archive.org]Travus T. Hipp's Commentary Archive Is [ Here]Search the archive by topic [
Here
]Cabale News RSS Feed Via Internet Archive
Creative Commons Copyright
Cabale New Service, KPIG Radio, and KVMR radio.
Listen to KPIG
,
Listen to KVMRRecorded & transcribed by Da' Buffalo Amongst Wolves

In accordance with Title 17 U.S.C. Section 107 and The Berne Convention on Literary and Artistic Works, Article 10, the news clippings and images used in this posting are made available without profit for research and educational purposes.
---
Related @ IceRocket:
Travus T. Hipp
,
Cabale News Service
,
KPIG
,
Politics
,
News
,
Alternative News
,
U.S. Foreign Policy
,
U.S. Domestic Policy
,
Breaking Politics News
,
Realpolitik
,
Republican Family Values
,
Social Justice
There Have Been
Visitors To Razed By Wolves & Cabale News
Thanks For Stopping By
.
.