Tuesday, December 15, 2009
"All The News You Never Knew You Needed To Know ...Until Now."

December 15 2009 Travus T. Hipp Morning News & Commentary: Congratulations California... It's 4:19! The Organization Circulating Petitons To Put Marijuana Legalization On The California Ballot Has Succeeded And Then Some
[Pop Out Player? Click Here]
Prefer An MP3 Playlist?
It's Here: [192kbps VBR 17:21 Minutes]
Other Audio Formats Available [ Here ]
Twitter This Commentary
In The News:
50 years later... We're in serious trouble in Asia. Our South Korean military commander has stated in a report that if the North invaded they would destroy Seoul in the first few minutes and overrun the indigenous forces AND our forces in short order. Maybe he's just feeling left out of the loop with our current deployment of almost every available combat soldier to Iraq and Afghanistan... We're not doing too well there either in spite of that fact... see below.
Also Asia... The new Japanese government is pushing for changes in their post-WWII agreements with the US. They're requesting three more months to look over a new agreement about our immense air force base on Okinawa and other Pacific outposts we have been freely using since the late 1940s.
The Obama meeting with the big boy bankers yesterday apparently did not change their attitude very much.
Reuters worded it this way: "
Obama tells bankers it's payback time
"
"
The bankers appeared chastened afterwards..
."
They
appeared
to be 'chastised' the LAST time too.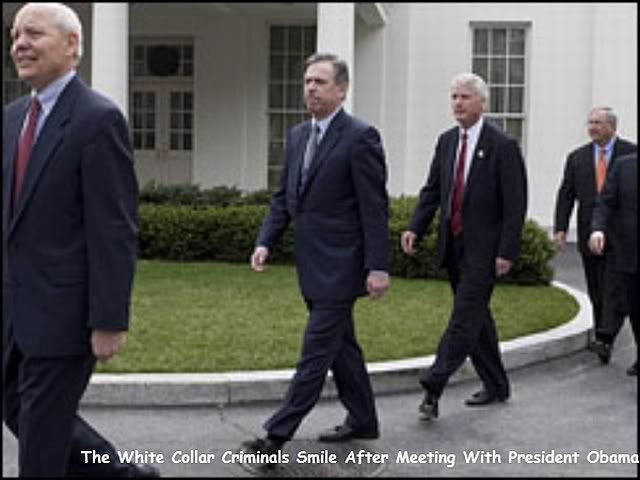 That's why they continue to make the BIG $$$ and are allowed to be the financial 'foxes' watching over our country's financial system (IOW, Because they're at the top of the 'faceman' sales chain... Penultimate liars.)
Maybe Obama will have better luck with his 'own'... Today he will try to strong arm the democrats in caucus over the Health Care Reform bill. Expect obstructionism from Joe Lieberman and a few others.
Remember the stink over the missing emails regarding the firing of federal prosecutors... The people investigating thought there were 22 million of them supposedly destroyed... they weren't.. they were just '
misplaced
' along with perhaps another 29 million. More.
In our wars
: Baghdad... Three bombs go off almost simultaneously at government and military facilities
In Kabul Afghanistan, a popular 'dignitary/tourist' hotel was bombed.
...and in Pakistan, a bomber strikes at a popular market near a military headquarters.
The federal government intends to buy and operate a maximum security prison in Thomson Illinois a hundred miles from Chicago near the Wisconsin border to house Gitmo inmates... all 100 of them. The prison will most likely also be used to house the overflow from their own prison-industrial complex.
Of COURSE
the Republicans are all over it like 'shit on flies'.
(Da Buffalo's dyslexia, or Freudian Slip? You be the judge...)
From CQPolitics Midday Update:
Dec. 15, 2009

Republicans Assail Purchase of Illinois Prison for Guantánamo Detainees

Republican congressional leaders on Tuesday denounced the Obama administration's decision to acquire an Illinois state prison to house some of the detainees now held at Guantánamo Bay, Cuba.

"The American people and a bipartisan majority of the Congress have already rejected bringing terrorists to U.S. soil for long-term detention, and current law prohibits it," said Senate Minority Leader Mitch McConnell , R-Ky. "The administration has failed to explain how transferring terrorists to 'Gitmo North' will make Americans safer than keeping these terrorists off of our shores in the secure facility in Cuba."

Senior administration officials wrote to Illinois Gov. Patrick Quinn to inform him that President Obama has directed the government to buy the prison in Thomson, Ill. In the letter, released Tuesday, Attorney General Eric H. Holder Jr. , Defense Secretary Robert M. Gates , Secretary of State Hillary Rodham Clinton , Director of National Intelligence Dennis C. Blair and Homeland Security Secretary Janet Napolitano said the administration would upgrade security at the prison, which will mostly accept regular federal prisoners... [In Full]
Yesterday Da Buffalo posted this on his personal blog: "
Tis' The Season To Ask Ourselves... "What Would Jesus Buy?
"
Here's a sample of that movie, with a link in the credits to the full movie online... or just click on the link above.
[
After the commentary... Have TWO hits, courtesy of The Toyes, and Bob Rivers exclaims softly "I'll Be Stoned For Christmas"... I'll bet you will Bob! I bet... you... will. Courtesy of the respective artists and KPIG radio Freedom California Earth.
]
-30-
Audio hosting courtesy of: [www.archive.org]Travus T. Hipp's Commentary Archive Is [ Here]Search the archive by topic [
Here
]Cabale News RSS Feed Via Internet Archive
Creative Commons Copyright
Cabale New Service, KPIG Radio, and KVMR radio.
Listen to KPIG
,
Listen to KVMRRecorded & transcribed by Da' Buffalo Amongst Wolves
---
Related @ IceRocket:
Travus T. Hipp
,
Cabale News Service
,
KPIG
,
Politics
,
News
,
Alternative News
,
U.S. Foreign Policy
,
U.S. Domestic Policy
,
Breaking Politics News
,
Realpolitik
,
Republican Family Values
,
Social Justice