Wednesday, November 11, 2009
In The News:
It's Veterans Day. A holiday now observed mostly by state and federal workers. One private organization remembers however... The Applebys restaurant chain IS providing a free meal for veterans today...
...and many of them need it.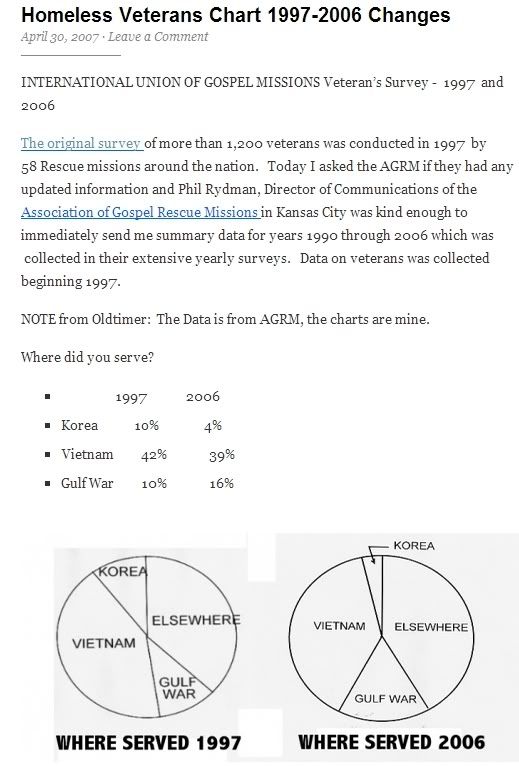 [Click the chart, or
here
, for the details]
Also, in relation to the people who risked their lives in (quite often worthless) American wars... from Alternet:
A new report by the Drug Policy Alliance (DPA) exposes practices and policies that for decades have unjustly resulted in large numbers of psychically injured and addicted veterans landing in the nation's prisons and jails.

The report reflects a year's worth of outreach to veterans and veterans' advocates across the country, and a distillation of their most creative, innovative and optimistic responses to the problem... [In Full]
Speaking of war... There have been another couple of bombing assassinations in the Northwest of Pakistan and today is the last of the meetings between President Obama and his War Cabinet about Afghanistan before the president leaves for Asia at the end of the week.
These folks don't work very much... The Health Care Reform bill will most likely hit the Senate floor next week but don't expect anything whatsoever to happen until after Thanksgiving recess is over. Details.
Blackwater (Xe), with employees still under indictment or convicted for various high crimes (NOT misdemeanors), was apparently willing to pay one million dollars in bribes to Iraqi officials to forget about the whole thing... Things such as the massacre of 17 civilians by the trigger-happy glorified security guards at Mansour Square.
The San Francisco Bay bridge will be closed for 1 to 4 days for further structural repairs sometime between now and Christmas, and it might still not be enough. More.
[
After the news, John Prine wants to tell you about a friend of his, and after the commentary, Joe Paquin (1948 to 2009) Prays For Peace and Griffin House Remembers... It's Happening Again. Courtesy of the respective artists and KPIG radio Freedom California Earth
]
With the holidays coming up, Da Buffalo has included a video germane to the topic of how America's veterans are doing in the new world order that originated sometime around the beginning of the industrial revolution sparking the national demand for massive amounts of natural resource which don't belong to us.
(Thanks to Constance MacPhail for tipping me to this video.)
-30-
Audio hosting courtesy of: [www.archive.org]Travus T. Hipp's Commentary Archive Is [ Here]Search the archive by topic [
Here
]Cabale News RSS Feed Via Internet Archive
Creative Commons Copyright
Cabale New Service, KPIG Radio, and KVMR radio.
Listen to KPIG
,
Listen to KVMRRecorded & transcribed by Da' Buffalo Amongst Wolves
---
Related @ IceRocket:
Travus T. Hipp
,
Cabale News Service
,
KPIG
,
Politics
,
News
,
Alternative News
,
U.S. Foreign Policy
,
U.S. Domestic Policy
,
Breaking Politics News
,
Realpolitik
,
Republican Family Values
,
Social Justice