Thursday, August 4, 2011
"All The News You Never Knew You Needed To Know ...Until Now."

August 04 2011 Travus T. Hipp Morning News & Commentary: Fly The Unfriendly Rethuglican Skies - The FAA Imbroglio... Creating Mass Unemployment For Political Advantage



[Pop Out Player? Click Here]
Prefer An MP3 Playlist?
It's Here: [128Kbps MP3 17:00 Minutes]
Other Audio Formats Available [ Here ]



Razer Raygun Says:

♥

Sharing IS Caring!

♥
Twitter This Commentary
In The News:Thanks this morning to ChrisM, my MP3Angel, for supplying the news and commentary audio files.
[
After the commentary, if you think THAT'S stupid, Junior Brown has a thing or two to tell you. Courtesy of the respective artists and KPIG Radio Freedom California Earth.
]
»
For thirty five thousand dollars a plate it better be some gooooood "Rubber Chicken" -
President Obama, whose fiftieth birthday is today, celebrated last night in Chicago with appearances by Jennifer Hudson and entertainment by Herbie Hancock among others. The birthday boy made a couple of long speeches as well. Now he's back to Washington, where things aren't so celebratory. More.
»
To wit... Because congress left town on an ill-deserved summer recess without doing their job, the FAA was left without a budget
for infrastructure maintenance contractors and other government employed workers OSTENSIBLY due to a dispute over unionization. That means seventy thousand FAA employees alone face a layoff, which would cripple the US air transportation industry. But it turns out congress isn't REALLY in recess technically and there's a push to call at least a quorum back into session for a few hours to hash out a short term extension. Expect resistance. MUCH more in the commentary.
»
We've been had! (or maybe the company is making this stuff up to sell their services...) -
A report from a private internet security company claims that for the last five years there have been massive cyberattacks on government and corporations in the United States by, perhaps a server system in China, or perhaps it's the Russians making it appear to be China.
»
The UN Security Council has issued a "President's Letter" calling for Bashar Assad of Syria to stop killing his citizens.
China has threatened to veto any resolution with sanction or military teeth in it. Meanwhile the Syrian government has retaken the town of Hama... at least that's what tanks resting in the middle of a town usually means.
But let's give this another spin... As I put it in a missive to Juan Cole at Informed Comment:
Would it sway your opinion about Syria's use of their military to suppress a revolt by elements SOME SAY are western financed if I mentioned that one of America's ostensible allies is doing EXACTLY the same thing right now?

How about if I throw in the fact that SecDef Leon Panetta, as one of his last acts as director of the CIA over-rode the wishes of that same country's US ambassador and committed to a drone strike that killed thirty eight civilians and probably qualifies as premeditated first degree murder and felony reckless endangerment/Mayhem?
»
In Iran, the government is AGAIN 'planning on releasing' the two UC Berkeley hikers
who accidentally wandered into the country a couple of years ago and were arrested for spying. Word has it they are American Anarchists, and the American right wing knows it... See: "
Let 'Em Rot: "Hiking" Americans Detained in Iran Are Pro-Syrian, Anti-Israel, Far-Left "Journalist" Activists (2009)
". Then clean the nasty right wing cookies from your computer.
In OTHER News:You didn't REALLY think we were leaving Iraq by December this year... Did you?
Iraq's troop decision encouraging, U.S. says

by Ed O'Keefe

BAGHDAD — U.S. officials on Wednesday welcomed Iraq's decision to negotiate with Washington on keeping some U.S. troops in the country into next year, seeing it as a move toward ending the months-long political stalemate that has complicated U.S. plans for a December withdrawal.

Iraq's top political leaders agreed late Tuesday that the Iraqi military needs to continue training programs with U.S. forces," [More @ the Washington Post]
This article from VoltaireNet furthers Auntie's long standing hypothesis about the Libyan 'revolt'...
Play the Westernized portion of the population (
10% more or less
) against the tribal and more traditional elements of Libyan society... and only give an international media voice to the ones with the laptops and cellies:
Benghazi, The Color Insurrection In Disarray

Thierry Meyssan

VOLTAIRE NETWORK | TRIPOLI (LIBYA) | 2 AUGUST 2011
o
o
o
The strategy of the West was simple: take advantage of Libya's normalization and economic opening to form a class of 'golden boy' technocrats that would end up preferring the American Way of Life to Gaddafi's Green Book.

As soon as this process reached maturity, the CIA organized the Benghazi events and the media distortion campaign. With their humanitarian discourse, the French and British were placed in the forefront to provide cannon fodder in the case of an eventual ground action. The National Transitional Council was put together by retrieving Americanized members of the ruling class, with the addition of old expatriates sponsored by the CIA ever since the fall of the monarchy, plus Al Qaeda fighters overseen by a Saudi faction.

Although seemingly a mixed bag, this coalition is based on the common history of its individual members. Most have worked for the United States for many years and have switched political affiliation several times over in keeping with Washington's tactical interests ...

... To carry out this color insurrection, Washington had only one card to play: the corruption of one of Muammar Gaddafi's companions, Interior Minister General Abdel Fatah Younes. His volte face was the cue for converting the ongoing the political destabilization operation into a military adventure. But, the assassination of General Younes at the hands of his rivals, on 28 July 2011, has caused the collapse of the "rebel army", thereby revealing the artificiality of the National Transitional Council.[Dispatch From Libya In Full]
The Agricultural-Industrial Complex... They can poison your food and walk away from it:
Salmonella Surge Linked to Meat Giant

Cargill recalls 36 million pounds of ground turkey.

Meat giant Cargill has recalled 36 million pounds of ground turkey after the CDC found that Cargill's meat samples were contaminated with the same strains of salmonella connected to the recent outbreak. So far, the salmonella surge has caused one death and 76 other cases of illness across the U.S. But since the samples tested had not directly caused any illness, the USDA has not been able to name Cargill the culprit.
[In Full with link to historical news information about the outbreak]
You say you lost your job working on computers down at the old server farm Bubbie? You planned on taking two or three jobs AS A SERVER in a restaurant or bar to make the housing, food, and transportation ends meet?

Good luck... You MIGHT get ONE:
Service sector growth slowest since 2010

NEW YORK Wed Aug 3, 2011

(Reuters) - The pace of growth in the services sector ticked down unexpectedly in July to the lowest level since February 2010 and the number of jobs created by the private sector also slowed, reports showed on Wednesday.

Taken alongside disappointing data on the manufacturing sector earlier in the week, the services data showed an economy that was frustrating hopes for a rebound in the second half of the year after a very weak first half.

"It looks like this confirms that we are in a bit of a soft patch here," [More Gloom... You'll WISH for Doom]
Ahem... yes... and we can only hope our hypothetical friend above finds their own 'soft patch'... of grass to sleep on, or else cardboard and a doorway it is!But at least our friend will eat...
as a homeless person who can't store food in bulk.... for about 3 of the 4 weeks in any month, with their Food Stamp 'Benefits'. However our not-so-mythical friend better be prepared to pack up early and find a bush to stash their stuff in though, because the USDA and federal government make you do an intensive job search if you need those 'benefits'... and right now, many Americans DO need them: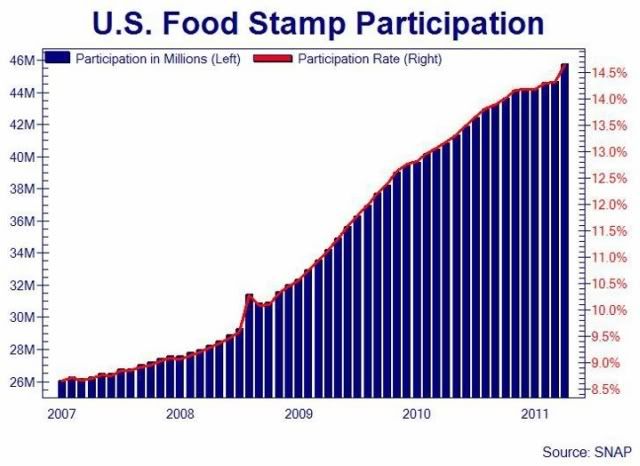 Which leaves us with the Quote of the Day:
"Four score and a hundred and fifty years ago Our forefathers made us equal as long as we can pay Yeah, well maybe that wasn't exactly what they was thinkin' Version six-point-o of the American way But hey we can just build a great wall Around the country club To keep the riff-raff out until the slump is through I realize that ain't exactly democratic But it's either them or us And it's the best we can do." ~~Steve Earle, Amerika V. 6.0
This is Razer Raygun saying 'Happy Motoring America...' Enjoy it while you can.

Remember... They only call it "Class War" when you fight back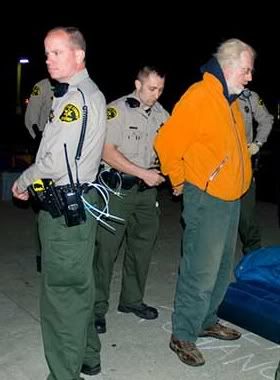 [Santa Cruz Ca Lawyer Ed Frey Arrested For Homeless Anti-sleep Law Protest]

(And PLEASE try to keep your government from killing all the dusky natives...)
-30-
Audio hosting courtesy of: [www.archive.org]Travus T. Hipp's Commentary Archive Is [ Here]Search the archive by topic [
Here
]Cabale News RSS Feed Via Internet Archive
Creative Commons CopyrightCabale New Service, KPIG Radio, and KVMR radio.Listen to KVMRRecorded & transcribed by Razer Raygun @ Razed By WolvesPostings Auntie Imperial And Razer Raygun Have Done Lately Are [Here]
The Consolidated Postings in RSS format [Here]Travus T. Hipp Fan Page @ Facebook (unaffiliated)
In accordance with Title 17 U.S.C. Section 107 and The Berne Convention on Literary and Artistic Works, Article 10, the news clippings, audio, and images used in this posting are made available without profit for research and educational purposes.
---
There Have Been
Visitors To Cabale News & Razed By Wolves
Thanks For Stopping By
..