Wednesday, June 8, 2011
"All The News You Never Knew You Needed To Know ...Until Now."

June 08 2011 Travus T. Hipp Morning News & Commentary: FaceBook Steals Your Face - Facial Recognition Is Only The Beginning Of The American Electronic Police State



[Pop Out Player? Click Here]
Prefer An MP3 Playlist?
It's Here: [128Kbps MP3 22:01 Minutes]
Other Audio Formats Available [ Here ]



Razer Raygun Says:

♥

Sharing IS Caring!

♥
In The News:Thanks this morning to ChrisM, my MP3Angel, for supplying the news and commentary audio files.
[After the commentary... and some advice from the station's lawyer, a little spoken word (
and some of them are NSFW
) from
Sage Francis
... Hey Bobby, followed by
Paris
, and
The Maroons
(
AKA Lateef and the Chief
), Sheep To The Slaughter, and If (..
If it wasn't for this, if it wasn't for that, it would be a better world
). Yeah, Razer KNOWS he played that one recently... It's a reminder to "Get on it". Courtesy of the respective artists.]
»
The Arizona forest/brush fires are out of control and spreading smoke thick enough to be a health hazard
all the way to St. Louis Missouri. The odds of getting any of these fires under control is about nil and two towns have been evacuated as the fire heads for the New Mexico border.
»
President Obama and Afghanistan's Hamid Karzai have announced they will teleconference next Moday
which in the media world means they're probably going to make some sort of joint announcement. Most likely a token troop withdrawal. 2000-3000 troops have been broached by some advisors, with 20,000-30,000 insisted on by others. Either way, there WILL BE stay-behind troops in the country just as there are stay-behind troops in Iraq, of whom five were recently killed... not at their barracks, but on patrol. Something the Obama administration will not admit to... We still occupy Iraq.
In its post-"withdrawal" plans, the State Department expects to have 17,000 personnel in Iraq at some 15 sites. If those plans go as expected, 5,500 of them will be mercenaries, hired to shoot-to-kill Iraqis as needed, to maintain security. Of the remaining 11,500, most will be in support roles of one sort or another, with only a couple of hundred in traditional diplomatic jobs. This is not unusual in wartime situations. The military, for example, typically fields about seven support soldiers for every "shooter." In other words, the occupation run by a heavily militarized State Department will simply continue in a new, truncated form -- unless Congress refuses to pay for it. [In full with linkage]
Expect no different, but perhaps bloodier results from our alleged garrisoning in Afghanistan.Meanwhile a Senate committee gives a dire warning on our tax-dollar investment there:
A new report released Tuesday evening by the Senate Foreign Relations Committee's majority staff warns that failures in the nation-building and aid programs in Afghanistan mean that the country may face "a severe economic depression" after foreign troops withdraw in 2014 (SFRC, Post, BBC, AP, AJE). The report sharply criticizes the way the nearly $320 million per month in American aid money is spent, and argues that both military and civilian aid programs are poorly managed, unsustainable, often overwhelm local economies, and fuel corruption, in a country where nearly 97 percent of gross domestic product comes from foreign military and development spending (Post). The committee will hold confirmation hearings today for Amb. Ryan Crocker, who has been nominated to serve as the next ambassador to Afghanistan. Bonus read: Art Keller, "Ailing Aid" (FP, FP).

The report's release comes as President Barack Obama faces increasing political pressure to withdraw forces rapidly from Afghanistan, and the White House said yesterday that Obama's decision on troop reductions would be announced soon (AP, AP, Times). The Times of London reports that Obama is considering withdrawing all 30,000 "surge" troops from the country by late next year (Times). [More, and all links at Foreign Policy]
»
Vice President Joe Biden meets with congressional spending committee leaders tomorrow
about who and what gets cut out of the budget and there IS talk of a tax increase.
More economic news from Reuters:
Negotiators eye $2.4 trillion debt limit hike: Kyl

WASHINGTON (Reuters) - White House and congressional negotiators are considering a $2.4 trillion rise in the U.S. debt limit to carry through to the end of 2012, which would require at least $2.5 trillion in savings over a decade or more, Republican Senator Jon Kyl said on Tuesday. More.

Obama's rating on economy hits new low: poll

WASHINGTON (Reuters) - Americans' disapproval of how President Barack Obama is handling the economy and its growing budget deficit has reached new highs amid broad frustration over the slow pace of economic recovery, according to a Washington Post-ABC New poll released on Tuesday. More.

GM CEO warns on playing games with national debt

DETROIT (Reuters) - Politicians should not "play chicken" with the country's credit rating, but need to focus urgently on finding ways to reduce the rising budget deficit, according to the head of General Motors Co. More.
Meanwhile Wall Street 'Spanks' Ben Bernanke:
Wall Street adds to losing streak after Bernanke speaks

NEW YORK (Reuters) - Stocks extended a losing streak for a fifth day on Tuesday on mounting concerns about the economy after bearish comments from Federal Reserve Chairman Ben Bernanke. More.
A reminder... There's a reason WHY America's economy is failing:
"There's nothing here that should surprise us. We are headed into a Depression because policymakers have made another Depression unavoidable. A policy-driven Depression is different than a financial crisis. It is a matter of choice. It means that the objectives of the people who control the system are different than our own." ~~Mike Whitney, Down, Down, Down (Our Goose Is Cooked), 03 June 2011
»
Tunisia has announced that their elections will be delayed until October
from the previously scheduled date next month due to 'conditions not being suitable'. In other words, the power elite of the country haven't fully regained their grip on the country's collective throat for the benefit of the Western-based sweatshop owners.
»
Yemen's President Saleh is apparently burned over 40% of his body and has been hospitalized at Riyadh Saudi Arabia.
He is claimed to want to return home. Meanwhile The rebels in Yemen have taken control of Taez, Yemen's second largest city and there is still heavy fighting in the capital Sanaa.
»
Meanwhile in Libya... Remember Libya? NATO is 'protecting civilians' in Libya to protect them from the big bad dictator that until recently the West had no problems doing business with?This is how Libyan civilians are being 'protected':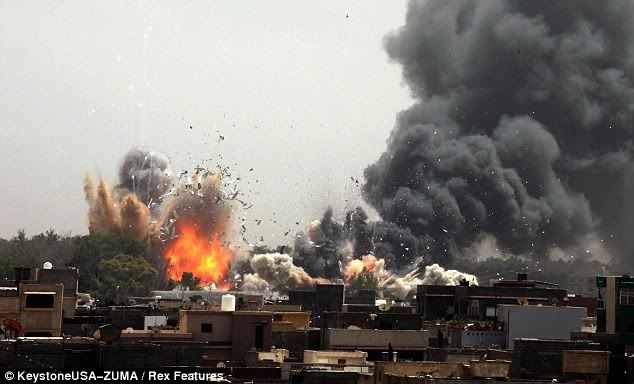 [Click the image for more graphics]
NATO jets pound Tripoli, Gaddafi vows to fight on

TRIPOLI (Reuters) - NATO warplanes struck the Libyan capital several times an hour, hour after hour on Tuesday in the most sustained bombardment of Tripoli since the bombing campaign began, but Muammar Gaddafi said he would fight to the death. More.
Still more from the LA Times:
NATO planes bomb Tripoli for hours on end

Libyan officials say at least 31 are killed as waves of aircraft hit Libya's capital with an unusual daytime bombardment, targeting what NATO calls 'command-and-control' centers. More.
In OTHER News:Because someone asked Razer what my 'stake' is in all this:
"My only stake in this is social justice for EVERY oppressed person on the planet. Oppressed Americans too. It's true of my posts here (Facebook). My bloggings, and the 1497 installments, 5 plus years worth, of the Cabale News Service archiving. I get paid nothing for doing any of it and I ABSOFUCKINGLUTELY have a vested interest in the outcome.

But it ISN'T measured in dollars and 'stuff'."
»
The sabers rattle but 'Attack Pakistan'? Not any time soon:
'Any attack on Pakistan would be construed as an attack on China': Beijing

If you missed the Chinese warning, those in power in Delhi and Washington were very aware of this. Any attack on Pakistan would be construed as an attack on China is a pretty strong statement coming from any quarter. Beijing has thus drawn a red line for the US and NATO, or any other motley crowd that was harboring intentions to attack Islamabad. More.
»
And in Wisconsin America, "Walkerville", an encampment based on the depression era Hooverville camps takes shape, and it includes 'schooling':
Marches and rallies are planned every day through at least June 11. On Sunday the theme was education, today it is public services. On Tuesday it will be health care, Wednesday higher education, Thursday democracy and corporate power, and on Friday and Saturday all the labor and community groups supporting the protest will converge in Madison under the theme of social and economic justice for all. Read more
This is Razer Raygun saying 'Happy Motoring America...' Enjoy it while you can.
(...and try not to let your government kill too many 'dusky natives' in the process OK?)
-30-
Audio hosting courtesy of: [www.archive.org]Travus T. Hipp's Commentary Archive Is [ Here]Search the archive by topic [
Here
]Cabale News RSS Feed Via Internet Archive
Creative Commons CopyrightCabale New Service, KPIG Radio, and KVMR radio.Listen to KVMRRecorded & transcribed by Razer Raygun @ Razed By WolvesPostings Auntie Imperial And Razer Raygun Have Done Lately Are [Here]
The Consolidated Postings in RSS format [Here]Travus T. Hipp Fan Page @ Facebook (unaffiliated)
In accordance with Title 17 U.S.C. Section 107 and The Berne Convention on Literary and Artistic Works, Article 10, the news clippings, audio, and images used in this posting are made available without profit for research and educational purposes.
---
There Have Been
Visitors To Cabale News & Razed By Wolves
Thanks For Stopping By
..