Friday, May 27, 2011
"All The News You Never Knew You Needed To Know ...Until Now."

May 27 2011 Travus T. Hipp Morning News & Commentary: Memorial Day... Decoration Day... Whatever You Call It It's Is The American 'Day Of The Dead'



[Pop Out Player? Click Here]
Prefer An MP3 Playlist?
It's Here: [128Kbps MP3 22:33 Minutes]
Other Audio Formats Available [ Here ]



Razer Raygun Says:

♥

Sharing IS Caring!

♥
In The News:Thanks this morning to ChrisM, my MP3Angel, for supplying the news and commentary audio files.
[
After the commentary... Phil Ochs - I Aint Marching Anymore, "Dedicated to all those nice folks at NATO", from a Youtube video, Europe, late 1960s, and then something a little more contemporary from Alabama3, remixed by Skidmark Bob, PoP dEFECT Radio. Courtesy of the respective artists.
]
»
President Obama is done at the G8 conference after they pledged $20 billion to "Westernizing" African and Middle Eastern governments.
Now he's off to Poland where he's reassuring the Poles there will be no offensive use of the missile systems we've placed there. See:
March 26 2010 Travus T. Hipp Morning News & Commentary: Robert Gates, The 'Cold War', And The Strategic Arms Reduction Treaty
which has more on the topic, including
this article
from VoltaireNet.
»
The Senate has rejected every amendment designed to put some civil rights back into the PATRIOT Act and passed the bill.
There is some contention over the use of the president's signature machine for the midnight signing of the bill, because if the bill hadn't been passed it would have created 'complications'... Apparently a bigger 'complication' than turning the United States into a police state seems to be.
»
The Senate is NOT going into recess for Memorial Day weekend
to prevent the woman who will head the Consumer Financial Protection Agency from being "recess appointed". The Democrats went along with it. More. More on
Elizabeth Warren's nomination hearing
from the May 25th Cabale News Report.
»
Secretary of State Clinton and Admiral Mullen are on an unscheduled visit to Islamabad Pakistan
attempting the convince the Pakistani military to move on the Taliban in The Tribal Autonomous Region and Waziristan. No one has been able to suppress the tribal areas... That's why they're still tribal.
»
Pause and remember. On Memorial Day we memorialize the deaths in battle of our family and friends, and ponder what they died for.

Eight more US soldiers were killed in Kandahar Afghanistan yesterday.

Ponder that while you dwell on this, from the National Priorities Project:
It's the eve of the Memorial Day weekend. Defense Secretary Robert Gates is on his pre-retirement "farewell tour" and the U.S. House of Representatives spent the week deep in its annual debate on the Pentagon budget.

NPP brings you three essential resources to help you assess the numbers behind the rhetoric around military spending.

U.S. Security Spending Since 9/11 provides detailed information on the $7.6 billion our nation has spent on security over the last decade. The analysis includes previously uncompiled figures on the amounts spent on "homeland security." Did you know that homeland security funding has totaled $636 billion since 9/11?

NPP's Cost of War website has been updated with the latest funding figures approved by Congress. Did you know that the total costs of the wars in Iraq and Afghanistan will reach $1.26 trillion by the end of the current fiscal year on September 30, 2011?

What's at Stake? offers 50 state-level briefs focused on the local impact of war spending. It includes valuable information on funding gap analysis and spending tradeoffs unique to each state. Did you know that Michigan has 71,862 Head Start-eligible children, more than twice the number of Head Start places? For Michigan's share of this year's Afghan War costs, the state could fund Head Start places for all eligible children for 11.8 years. [Much More @ The National Priorities Project]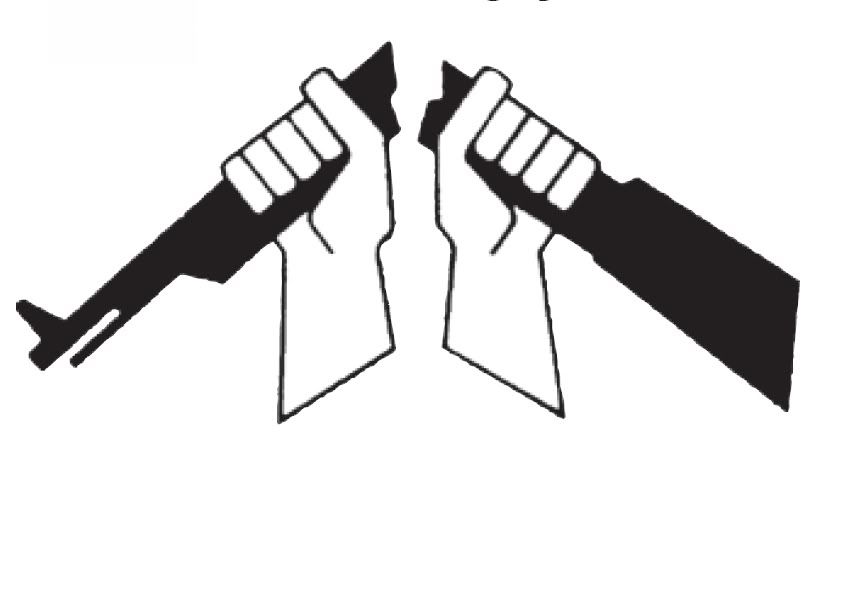 [Click the broken rifle. Visit the War Resisters League]
This is Razer Raygun saying 'Happy Motoring America...' Enjoy it while you can.
(...and try not to let your government kill too many 'dusky natives' in the process OK?)
-30-
Audio hosting courtesy of: [www.archive.org]Travus T. Hipp's Commentary Archive Is [ Here]Search the archive by topic [
Here
]Cabale News RSS Feed Via Internet Archive
Creative Commons CopyrightCabale New Service, KPIG Radio, and KVMR radio.Listen to KVMRRecorded & transcribed by Razer Raygun @ Razed By WolvesPostings Auntie Imperial And Razer Raygun Have Done Lately Are [Here]
The Consolidated Postings in RSS format [Here]Travus T. Hipp Fan Page @ Facebook (unaffiliated)
In accordance with Title 17 U.S.C. Section 107 and The Berne Convention on Literary and Artistic Works, Article 10, the news clippings, audio, and images used in this posting are made available without profit for research and educational purposes.
---
There Have Been
Visitors To Cabale News & Razed By Wolves
Thanks For Stopping By
..