Tuesday, April 12, 2011
"All The News You Never Knew You Needed To Know ...Until Now."

April 12 2011 Travus T. Hipp Morning News & Commentary: The First Lady Hires A General - JSOC Hardened Stanley McChrystal Has A New TRULY IMPORTANT Command



[Pop Out Player? Click Here]
Prefer An MP3 Playlist?
It's Here: [128Kbps MP3 11:32 Minutes]
Other Audio Formats Available [ Here ]



Razer Raygun Says:

♥

Sharing IS Caring!

♥
In The News:Thanks this morning to ChrisM, my MP3Angel, for supplying the news and commentary audio files.»
Peace is NOT breaking out in Libya.
NATO continues it's airstrikes against al-Gadffi's forces despite the fact that his government has agreed to an African Union brokered ceasefire which the rebels have rejected undoubtedly banking on continued Western involvement in the country.
As Congressman
Dennis Kucinich put it
: "
It's easy for the rebels to reject a peace proposal: The U.S. is spending more money on this war than any other nation. The cost of the war has reportedly passed $600 million and there is no end in sight... ...The mysterious 'rebels,' who by themselves have been unable to force Gaddafi to terms, want the U.S./NATO to hand over control of Libya to them -- this even though they have not been able to demonstrate broad-based public support throughout the country
."
Speaking of banking... The rebels have wasted no time setting up one of those
, along with
a plan to sell oil
. Whether the oil can be purchased legally.... well no one really knows.... any more than anyone really knows the the legal veracity of any rebel printed scrip or money. See
this Examiner article
or
here
, at Uruknet.
»
French forces have captured the unseated president of the Ivory Coast
. What they might do with him remains to be seen.
»
Remember insubordinate and disgraced general Stanley McChrystal?
He has about two years left until retirement and has been given a new, kinder, gentler command than hard-boiled commander of JSOC operations in Afghanistan... Working at the White House under Michelle Obama helping military families. More in the commentary.
»
There was a big protest in Washington DC yesterday over cuts
in just-passed the continuing resolution budget for the federally administered family planning budget in Washington DC city.
The Fukushima EX-reactor in Japan has been declared a "7" nuclear disaster...
the equivalent of Chernobyl and perhaps worse.
Fukushima, Nearly a Month In

by Russell D Hoffman

CounterPunch

April 06 2011

It's been more than three weeks now, and things are still getting worse at Fukushima Daiichi. The world's news media, and the tired public, may be trying to move on, but Fukushima is still spewing radioactive poisons at ever-increasing rates, pushing itself back onto the headlines day after day ...

Now there are confirmed radiation readings around the plant that are millions of times higher than the legal limits. Not just higher than background or "normal" limits, but millions of times higher than legal limits. The mega-catastrophe we all hoped to avoid forever is unfolding, and not one bright nuclear scientist or engineer seems to know how to stop it.

So much for the experts... [More @ CounterPuch]
If it doesn't make sense to you why this would be allowed to continue
considering there are the same-design nuclear generation plants in other populated areas of the world including the United States, just remember... "
The Superrich Are Different From Us
"
Global Research, April 8, 2011

Profit Pathology and the Disposable Planet

by Michael Parenti

Some years ago in New England, a group of environmentalists asked a corporate executive how his company (a paper mill) could justify dumping its raw industrial effluent into a nearby river. The river - which had taken Mother Nature centuries to create - was used for drinking water, fishing, boating and swimming. In just a few years, the paper mill had turned it into a highly toxic open sewer.

The executive shrugged and said that river dumping was the most cost-effective way of removing the mill's wastes. If the company had to absorb the additional expense of having to clean up after itself, it might not be able to maintain its competitive edge and would then have to go out of business or move to a cheaper labor market, resulting in a loss of jobs for the local economy... [In Full @ Global Research]
»
Meanwhile in American NukeNews...
for the next three days the San Onofre nuclear plant in Southern California will be the site of joint task force exercises in nuclear disaster preparedness. Many of California's nuclear facilities are up for re-licensing... typically done by simply rubber-stamping their operation. For a couple of those facilities, it will be the last time re-certification is required.
Think about that... as they age, they'll no longer be required to prove their safety.»
Finally... The CIA and their counterpart, the ISI of Pakistan had a meeting at the White House yesterday
and there supposedly there is plan for reduction of CIA usage in Pakistan and a reduction in drone strikes in the country which have killed so many civilians that some people are calling for a no-fly zone to protect the civilians of Pakistan and the tribal territories from US air attacks.
In OTHER News:»
As I was quoting yesterday:
House Majority Leader Eric Cantor (R-Wis.) talked up the budget proposed by Rep. Paul Ryan (R-Wis.). "We're going to protect today's seniors and those nearing retirement, but for people under 54" like himself, he said, "those programs are not going to be there for me when I retire. They can't." [More @ the Washington Post]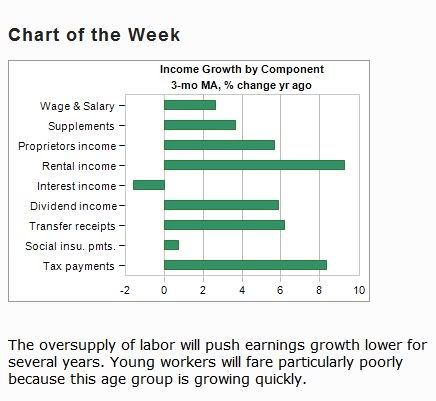 [Chart courtesy of Moody's Consumer Flow Weekly Update]
»
Yesterday in a split decision the 9th Circuit Court upheld a lower court ruling
blocking the most contested provisions of Arizona's racist immigration law from taking effect. Specifically, the part "
which empowers police to question people whom they have a "reasonable suspicion" are illegal immigrants
."
The court ruled only on Bolton's order, not on whether the Arizona measure is legal, and the Justice Department's move to have the law thrown out will proceed. But the judges gave strong indications that they accept the administration's argument that the legislation is unconstitutional and that they would rule that way in the end. More @ the Washington Post
»
A blast at a metro station in the Belarusian capital Minsk killed seven people and injured about 50 yesterday.
The cause is not yet known.
"Belarus, an independent post-Soviet state of around 10 million people, is closely allied with next door Russia. But it has no internal unrest akin to Moscow's ongoing security campaign against insurgents in the mainly-Muslim north Caucasus, and has never experienced the kind of terrorism that has hit repeatedly in big Russian cities," but according to reports: "Belarus has been rocked with internal discord since December presidential elections brought Mr. Lukashenko back for an unprecedented fourth term, amid widespread allegations that the voting was rigged. Lukashenko crushed opposition protests, arrested over 600 people – including 7 of his electoral rivals, and shut down most of Belarus' independent media." [More @ Christian Science Monitor]
This is Razer Raygun saying 'Happy Motoring America...' Enjoy it while you can.
(...and try not to let your government kill too many 'dusky natives' in the process OK?)
-30-
Audio hosting courtesy of: [www.archive.org]Travus T. Hipp's Commentary Archive Is [ Here]Search the archive by topic [
Here
]Cabale News RSS Feed Via Internet Archive
Creative Commons CopyrightCabale New Service, KPIG Radio, and KVMR radio.Listen to KVMRRecorded & transcribed by Razer Raygun @ Razed By WolvesPostings Auntie Imperial, Razer Raygun, and Da' Buffalo Have Done Lately Are [Here]
The Consolidated Items Listing in RSS format [Here]Travus T. Hipp Fan Page @ Facebook (unaffiliated)
In accordance with Title 17 U.S.C. Section 107 and The Berne Convention on Literary and Artistic Works, Article 10, the news clippings, audio, and images used in this posting are made available without profit for research and educational purposes.
---
There Have Been
Visitors To Cabale News & Razed By Wolves
Thanks For Stopping By
.
.