Friday, August 6, 2010
In The News:
"There is no flag large enough to cover the shame of killing innocent people."
~~Howard Zinn, Historian
Sorry for this late posting... Razer "Slept In"
... with that 'luxury' made possible thanks to ChrisM, my MP3Angel, who supplied the backup news & commentary audio files.
War just ain't what it used to be
- In the last couple of days we've lost 2 soldiers in Afghanistan and experienced a number of suicide attacks in that country and Iraq, in total leaving approximately 100 humans dead.
65 years ago today a U.S. aircraft delivered a nuclear bomb that killed 140,000 people
in Hiroshima Japan and the next day, Nagasaki was attacked. Much more in the commentary.
In the last 24 hours the U.S. Senate managed to pass the "Jobs Bill"
and now Nancy Pelosi will call the House back into session to vote.
Retired General Clapper has been confirmed
as the new Director of National Intelligence.
The weather moves from West to East
- The Himalayas and India are experiencing the same monsoon weather and flooding that
recently thrashed Northwest Pakistan leaving TWELVE MILLION affected
.
There are literally a thousand of forest fires burning
upwind of Moscow Russia despoiling the air, as the country experiences the worst heat wave in a century.
It LOOKS like it might be "OK"
- BP has completed their Static Kill on the Deepwater/Horizon/Macondo well and will start working on relief well in a couple of weeks and then "Bottom Kill" it.
OTHER folks say it is NOT OK:
"...the government can account for only about 25 percent of the spilled Gulf oil—the portion that's been skimmed, burned off, directly collected, and so on. The remaining 75 percent is still unaccounted for..." (source)
Adbusters-TV on the meaning of "Everything Is OK":
"Everything Is OK"
[Pop Out Player]
Elena Kagan has been confirmed
as the newest Supreme Court Justice.
Fourteen US supporters of the Somali organization 'Al-Shabab' have been indicted.
The organization is accused of NOT being a Somali Islamic defense group, but the US claims they are al Qaeda affiliated.
In OTHER News:
Sleeping late... Sleeping in... at the sleep-in.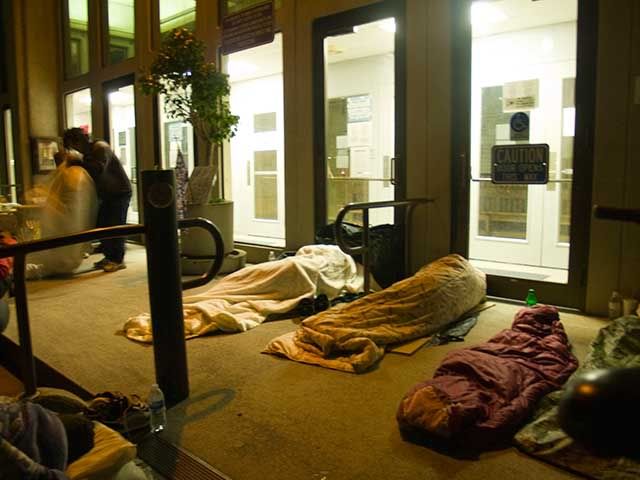 (Santa Cruz county court house, a clean, well-lit place to sleep)
In post-gentrification Santa Cruz California, an ongoing demonstration/protest called Peacecamp2010 ("Your wars are making us poor") organized by a local lawyer and in-place at the county courthouse has the city's PR panties in a knot and pressure is being applied by the city and county by harrassing the houseless campers into vacating, to little effect but a few minutes lost sleep.
"SANTA CRUZ -- Tensions surrounding a month-long homeless protest in front of the county courthouse are rising, but so far no action has been taken to enforce the city's camping ban.

For the second time this week, sheriff's deputies went to the camp-out late Wednesday to shoot photos, talk with demonstrators and advise them they are violating the city ordinance, according to Sgt. Dan Campos.

"We've got some plans to resist the next time they come too," Christopher Doyon, 45, a homeless man who is the spokesman for what demonstrators call Peace Camp 2010. "They're not going to get this easy."

Most of the 40 people camping on the lawn and stairs in front of the Santa Cruz County Superior Courthouse were cooperative and no citations were issued, Campos said.

Protesters had a different take on the night. They termed the incident a "raid" and said they thought deputies invaded their camp and harassed sleeping people.

"They came in last night and they met some pretty stiff resistance," Doyon said. "We're not going to take this lying down anymore."

Participants argued with deputies Wednesday, telling them they were violating campers' civil rights by waking people. Deputies also had come to the camp early Sunday morning, a calm visit that campers had expected.

The demonstrators are calling for the Santa Cruz City Council to rescind a city ordinance that prohibits camping in Santa Cruz between 11 p.m. and 8:30 a.m., as well as forgiveness for all camping tickets ever issued in the city.

Protesters have vowed to stay on the lawn until their demands are met. If police try to remove them, several have said they will not go voluntarily." [In Full]
As yours truly worded it a while back:
...And finally, in Santa Cruz California, also known as "Silicon Beach" due to it's vacation-ready location just 'over the hill' from the Silicon Valley and San Jose, the LEGAL homeless camp-in at the county courthouse known as "Peace Camp 2010" enters it's 24th night of legal sleep for travelers and the displaced workers of the city After a march to city hall the day before, with the city government, whom the sleep-in is targeting due to unconstitutional laws such as a total prohibition, (a "blanket ban" if you would) on sleeping outside at night. The city's leaders are sweating it out in an election cycle full of nightmare publicity aimed at showing the so-called 'progressive' city's government seamy authoritarian underbelly. In a currently headlining desperate attempt, the city is claiming the County courthouse steps are under the jurisdiction of the City's Parks and Recreation claiming it gives them jurisdiction to break up the camp-in, but at this point, and to their credit, the Santa Cruz Police Department is not impressed with the dual-jurisdiction interpretation:
SANTA CRUZ -- The legal loophole that has allowed dozens of protesters to camp in front of the county courthouse for more than three weeks closed Wednesday when city and county officials determined the city's camping ban applied to the county property because it falls within city limits.

However, it remained unclear how the ordinance would be enforced.

"I think what they're going to do is notify all the folks and encourage them to move along," (The current situation at Peaceamp2010) said county spokeswoman Dinah Phillips, who issued a statement Wednesday saying the city's no-camping ordinance would be enforced.

But sheriff's deputies were still formulating a response and city police said it's not their call.

"Why would we go? It's the county's property," Deputy Santa Cruz Police Chief Rick Martinez said. "We're not going to take action on our own on their property." [In Full]
Visit
Peace Camp 2010's blog
, and see
this IndyMedia article
for more information.
In Iraq... Remember Iraq? One needs to read the Pakistani newspapers
to see Iraq is still in the clutches of the Western industrial nations (
and will be until the very last drop of oil is extracted if the West has it's way about it...
)
UN extends mandate of UN mission in Iraq for a year

UNITED NATIONS: The Security Council on Thursday extended by a year the mandate of the UN Assistance Mission in Iraq (UNAMI) and urged that country's leaders to speed up formation of an inclusive government.

The 15-member body unanimously adopted a resolution, sponsored by the United States, Britain, Japan and Turkey, extending the mandate of UNAMI, which expires Saturday, until July 31 2011. It expressed its intention to review the mandate "in 12 months or sooner, if requested by the government of Iraq."

As UN chief Ban Ki-moon did Wednesday, the council also appealed to Iraq's bickering leaders to quickly form a government "that represents the will and sovereignty of the Iraqi people and their hope for a strong, independent, unified and democratic Iraq" in the wake of the March parliamentary elections. Ex-premier Iyad Allawi's Iraqiya bloc finished first in the March 7 polls with 91 seats in the 325-member parliament, with PM Maliki's State of Law alliance winning 89.

Both, however, fell short of a parliamentary majority, and negotiations over assembling a coalition with other parties appear to have stalled. The lingering political deadlock coincides with an upsurge of extremist violence, with a total of 42 people killed Tuesday, just days after government ministries said more people died in unrest in July than in any month since May 2008. afp [In Full]
[
After the commentary, Sun Ra and his Celestial Arkestra are "Talkin' about (yeah yeah) Nuclear War (yeah yeah)". Courtesy of the respective artists, Adbusters: Live Without Dead Time, and KPIG Radio Freedom California Earth
]
-30-
Audio hosting courtesy of: [www.archive.org]
Travus T. Hipp's Commentary Archive Is [ Here]
Search the archive by topic [
Here
]
Cabale News RSS Feed Via Internet Archive
Creative Commons Copyright
Cabale New Service, KPIG Radio, and KVMR radio.
Listen to KVMR
Recorded & transcribed by Razer @ Razed By Wolves
Postings Da' Buffalo, Razer, and Auntie Imperial Have Done Lately Are [Here]
The Consolidated Items Listing in RSS format [Here]
In accordance with Title 17 U.S.C. Section 107 and The Berne Convention on Literary and Artistic Works, Article 10, the news clippings, audio, and images used in this posting are made available without profit for research and educational purposes.
---
There Have Been
Visitors To Cabale News & Razed By Wolves
Thanks For Stopping By
.
.