Tuesday, June 29, 2010
In The News:Thanks this morning to ChrisM, my MP3Angel, for supplying the commentary audio file.The FBI has arrested 10 people as deep cover Russian espionage agents
living in the suburbs of America... The family next door so to speak. More.
The Senate Judicial Committee hearing
on Elena Kagan's nomination for Supreme Court Justice has begun.
The G20 protests - Over 10,000 people were in the streets. Security alone cost ONE BILLION DOLLARS.Some folks at the protests DID note that price tag...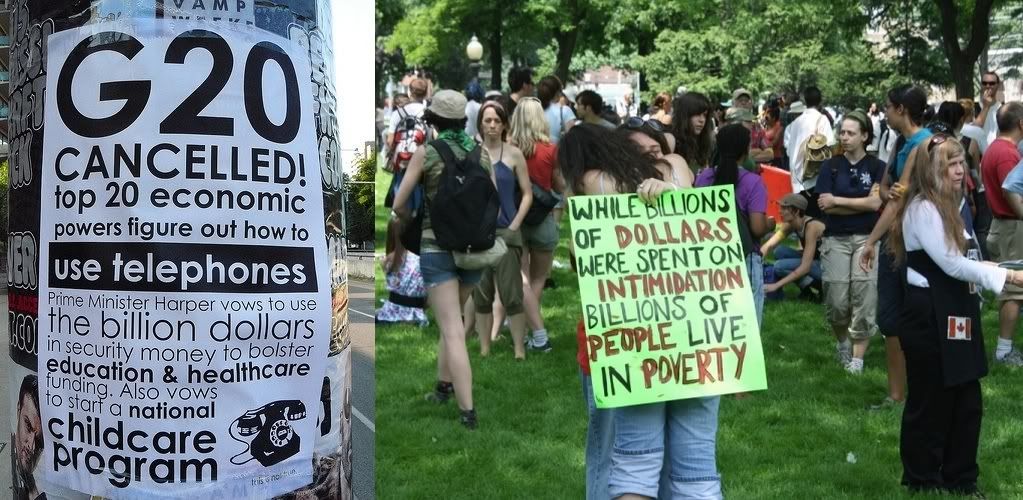 These events have become a way of proving
that the country hosting the event can be host to the world's 'best' police state.
"Wow.. watching channel 24, and now they are randomly arresting ppl the reporter seen a young couple five feet from him get tackled to the ground for no reason!! and taken in." [source]
Run the best false flag operations:
"Groups of undercover police were repeatedly identified by protesters at marches occurring between Monday and Wednesday. Some were reportedly wearing black baseball caps, bandanas with marijuana leaf-designs on them, and patches with Che Guevara on them. When asked by journalists if they were police, none denied it." [source]
...and show legal observers they too have no rights:
"Riali Johannesson ---I am a criminal lawyer, and was outside the TCMN office on Sunday afternoon after having been told that someone under arrest wished to speak with counsel. I was then detained for two hours with a group of about 50 other by-standers and passers-by. The police said that that they suspected some of us to be Black Bloc anarchists. I think it was my suspicious-looking royal blue dress that did me in . . . or maybe my super-sweet little straw hand-bag.At one point an officer told me that she knew I was "an innocent by-stander", but she had consulted "up the chain of command" and I would not be permitted to leave." [source, FaceBook users only...sorry]
Oh yeah... They club reporters too!
Real News Network's Jesse Freeston, a member of the credentialed media was attacked after a deaf man was arrested for "Not Following Orders" and his equipment smashed when he asked the officer if his orders included attacking the press. [source]
Amnesty International has
called for an investigation of the security
at the G8/G20.
---
Updated July 06 2010: The Canadian Civil Liberties Association has issued a Preliminary Report of G20 observations.
---
Auntie Imperial also posted some notes and observations
on the G20 (from a safe distance) yesterday:
Some Notes, From The Distance, On The G20 'Summit' And The Concurrent "Toronto Troubles"
Bangla Desh is experiencing a general strike
over the incompetence of the country's government. 200 have been arrested so far.
General Petraeus' confirmation hearing is underway.
As the Christian Science Monitor put it: "
General Petraeus hearing to put Afghanistan war, not him, in hot seat
". But the BIG question is who among General McChrystal's staff will be leaving when he retires.
One More Thing:Since BP's disaster in the Gulf of Mexico appears to have moved to the "Z" section of most newspapers even though Mississippi's coastline has begun to be blackened with slime and tarballs as Tropical Storm Alex, soon to be Hurricane Alex hampers (or stops) the oil spill containment efforts...
It's surely time for some cynical humor:
-30-
Audio hosting courtesy of: [www.archive.org]Travus T. Hipp's Commentary Archive Is [ Here]Search the archive by topic [
Here
]Cabale News RSS Feed Via Internet Archive
Creative Commons CopyrightCabale New Service, KPIG Radio, and KVMR radio.Listen to KVMRRecorded & transcribed by Da' Buffalo Amongst WolvesPostings Da' Buffalo, Razer, and Auntie Imperial Have Done Lately Are [Here]The Consolidated Items Listing in RSS format [Here]
In accordance with Title 17 U.S.C. Section 107 and The Berne Convention on Literary and Artistic Works, Article 10, the news clippings, audio, and images used in this posting are made available without profit for research and educational purposes.
---
There Have Been
Visitors To Razed By Wolves & Cabale News
Thanks For Stopping By
.
.