Tuesday, June 1, 2010
In The News:Thanks this morning to ChrisM, my MP3Angel, for supplying the commentary audio file.Due to time constraints there will be no text news synopsis this morning...HOWEVER,
after the commentary, an audio collage... The Asian Dub Foundation, Rivers Of Dub, From Adbusters CD "Live Without Dead Time" (
onebigtorrent.org, currently showing 4 'seeds'
), followed by a taste of
Vietnamistan
by the
Alabama 3
, remixed for the occasion by Skidmark Bob, PoP dEFECT Radio.
Also see: "Sanitizing War: What would "Memorial Day" Be Without The Memories?" at Razed By Wolves, where I said:
This seems like a good juncture in history, as we head into Memorial Day 2010... because it's not JUST Memorial Day this weekend, it's also Trillion Dollar Day... That's what the AfPakIraq war has cost us (The direct cost of occupying Iraq and Afghanistan)... so far, with no real end in sight, just troops moved from theatre (Iraq) to theatre (Afghanistan) to theatre (See here for a list of them)

I think we should all ruminate on what we're getting for that money.



Corrupt colonial governments?

Yes.

Peace?

No.

Security?

NOT!

Dead soldiers?

Absofuckinglutely!



But the Pentagon, and the other interested parties who want you to just simply play along with their murderous imperial wars like "Good Americans-cum-Germans" don't want you to think about... REALLY think about, those Absofuckinglutely dead soldiers...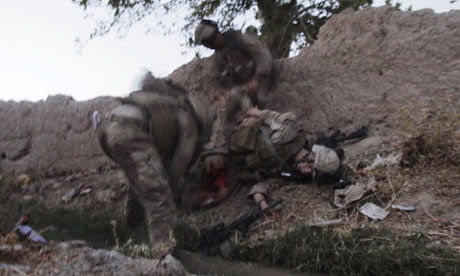 Lance Cpl. Joshua Bernard is tended to by fellow U.S. Marines in Afghanistan.
Photograph: Julie Jacobson/AP
[
In Full
]
-30-
Audio hosting courtesy of: [www.archive.org]Travus T. Hipp's Commentary Archive Is [ Here]Search the archive by topic [
Here
]Cabale News RSS Feed Via Internet Archive
Creative Commons CopyrightCabale New Service, KPIG Radio, and KVMR radio.Listen to KVMRRecorded & transcribed by Da' Buffalo Amongst WolvesPostings Da' Buffalo, Razer, and Auntie Imperial Have Done Lately Are [Here]The Consolidated Items Listing in RSS format [Here]
In accordance with Title 17 U.S.C. Section 107 and The Berne Convention on Literary and Artistic Works, Article 10, the news clippings, audio, and images used in this posting are made available without profit for research and educational purposes.
---
There Have Been
Visitors To Razed By Wolves & Cabale News
Thanks For Stopping By
.
.