Wednesday, October 21, 2009
.
.
Update January 06 2010:Japanese Antarctic Whaling Fleet Declares War On Sea Shepherd, Rams/Sinks Ady Gil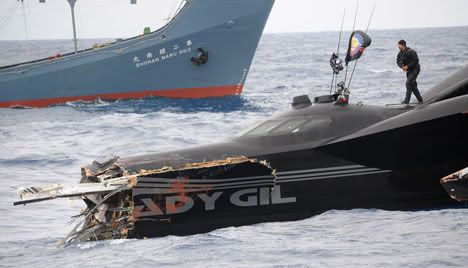 "According to a reported statement by the Sea Shepherd Conservation Society, a Japanese vessel alongside the Nisshin Maru whaler
slammed into the activists' high-tech speed boat, the Ady Gil
, slicing off a piece of it. Reports said the boat is unsalvageable. The six member crew (five from New Zealand and one from the Netherlands) were rescued by another Society Vessel (the Bob Barker), reports said." [
In Full
]
Further, according to the news release by Sea Shepherd "...
in an unprovoked attack captured on film, the Japanese security ship Shonan Maru No. 2 deliberately rammed
...".
YOU Decide...
See the related videos for more footage
However
, the Sea Shepherd Conservation Society STILL has a posse:
Read about Sea Shepherd's new vessel here.
---
Round 'em Up, Cut 'em Off!
From Wikipedia:
Earthrace is a 78 feet (24 meters) alternative fuel powered wave-piercing trimaran; part of a project to break the world record for circumnavigating the globe in a powerboat—and to do so using only renewable fuels. [source, with much more]
Due to its speed capabilities, up to 50 knots, Captain Paul Watson (Sea Shepherd President and Founder) intends to use the Ady Gil to intercept and physically block the harpoon ships from illegally slaughtering whales.
Says Captain Watson, "We're very excited that the Ady Gil will be joining the Steve Irwin in Antarctica this campaign. With these two ships, we will mount the most ambitious and aggressive effort to date to obstruct the slaughter of the whales in the Southern Ocean."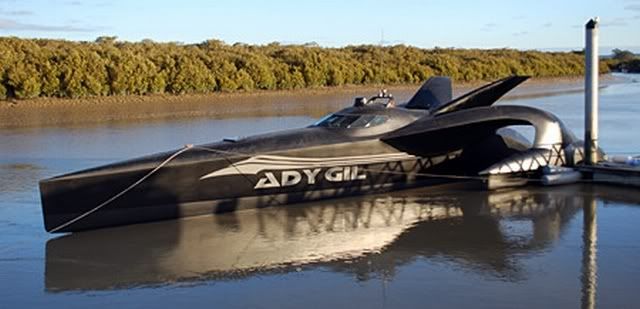 The vessel, previously known as the Earthrace, is a fast, futuristic looking trimaran that recently set the world record for global circumnavigation. The vessel renaming reflects the ship's benefactor, Ady Gil, who helped acquire the vessel.
In Full