Wednesday, June 17, 2009
"All The News You Never Knew You Needed To Know ...Until Now."

June 17 2009 Travus T. Hipp Morning News & Commentary: Stepping Back For A Historic Perspective On Presidential Agendas - What One President CAN DO In A Given Time Period Compared To What President Obama Has Set Out To Do
[Pop Out Player? Click Here]
Prefer An MP3 Playlist?
It's Here: [192kbps VBR 8:59 Minutes]
Other Audio Formats Available [ Here ]
Twitter This Commentary
In The News:
Two big headlines are emanating from the White House this morning. #1 -
A new plan for regulating the US financial sector
... "
The Obama proposal touches on regulation of banking, securities, mortgages and other financial products. For derivatives, the plan describes core principles
...", and #2, the president will issue either an executive order, making a permanent change or a memorandum, changing the rules only for his terms in office, that gives all available
benefits to gay employees working for the federal government
.
From the Center for Economic and Policy Research:
Obama Plan Improves Regulatory Structure but Doesn't Address Accountability

By Dean Baker

June 17, 2009

There are many useful features of President Obama's proposals for the reform of the regulatory system. Most notably, the plan to establish an agency to ensure that financial products are fair and transparent to consumers is a big step forward. Such an agency might have prevented many of the worst abuses in the subprime market.

The proposal to provide regulatory authorities with resolution powers for non-bank financial institutions is also a useful reform. Such powers would have greatly facilitated regulators' efforts to deal with the collapse of Bear Stearns, Lehman Brothers, and AIG.

This plan should also go far toward eliminating the sort of regulatory arbitrage that allowed firms to seek out the weakest regulators. It would have been desirable to have also included some sort of national consolidation of regulation of insurers, but that would have faced enormous political opposition. [In Full]
The Space Shuttle Endevour launch has been scrubbed until the middle of July due to
continuing problems with Hydrogen leaks
.
Only (Gasp!)$108 BILLION dollars to fund the Iraqistan wars till September. The House votes for more war as the
supplemental spending bill passes
226-202
despite the anti-war Democrats
, Dennis Kucinich, Barbara Lee, and Maxine Waters amongst others, who voted against it, and Republicans who disliked other legislation funding the IMF tacked on to it. "
...the defense part (of the bill) was over four billion dollars more then asked for...
" and includes funding for
allegedly
IED and mine resistant MRAPs
This MRAP was destroyed by a conventional IED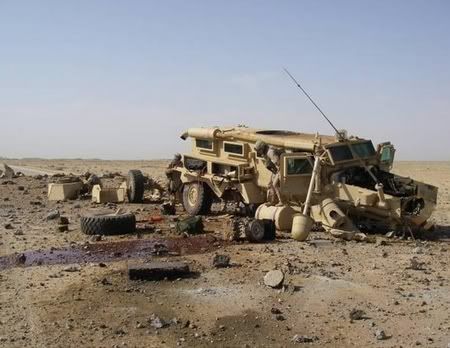 Iran's election will be recounted in contested provinces, and there are other moderate members of the Iranian power elite who are looking for change overall in Iran's leadership.
In response to the turmoil, the powerful Guardian Council - Iran's highest legislative body - has said it will to order a recount of votes cast in the country's disputed presidential election if it finds irregularities.

Can the Guardian Council bring the country back together? If the vote recount goes ahead, will Mousavi's supporters accept the new result? [In Full, with a 23 minute video news analysis @ al Jazeera]
A rehash from the other day, Juan Cole on Class Vs Culture wars in Iran:
Sunday, June 14, 2009
Class v. Culture Wars in Iranian Elections: Rejecting Charges of a North Tehran Fallacy
Some comentators have suggested that the reason Western reporters were shocked when Ahmadinejad won was that they are based in opulent North Tehran, whereas the farmers and workers of Iran, the majority, are enthusiastic for Ahmadinejad. That is, we fell victim once again to upper middle class reporting and expectations in a working class country of the global south.

While such dynamics may have existed, this analysis is flawed in the case of Iran because it pays too much attention to class and material factors and not enough to Iranian culture wars. [In Full] (see his more recent posts for updates on the Iranian election)
–30–
Audio hosting courtesy of: [www.archive.org]Travus T. Hipp's Commentary Archive Is [ Here]Search the archive by topic [
Here
]Cabale News RSS Feed Via Internet Archive
Creative Commons Copyright
Cabale New Service, KPIG Radio, and KVMR radio.
Listen to KPIG
,
Listen to KVMRRecorded & transcribed by Da' Buffalo Amongst Wolves
---
Related @ IceRocket:
Travus T. Hipp
,
Cabale News Service
,
KPIG
,
Politics
,
News
,
Alternative News
,
U.S. Foreign Policy
,
U.S. Domestic Policy
,
Breaking Politics News
,
Realpolitik
,
Republican Family Values
,
Social Justice