Wednesday, June 16, 2010
In The News:Last night president Obama delivered a sitrep regarding the BP oil spill
in the Gulf of Mexico and it wasn't inspirational as much as it was informational. This morning BP's Chairman Of the Board will meet with Obama who will attempt to give him his 'marching orders' including $20-40 billion in an escrowed trust fund for the payment of claims of livelihood loss, property destruction, and health damage due to toxins. Meanwhile BP has gotten the OK to burn the spilled oil at the site. Don't worry, you won't see a thing... even as the burn
make the air for miles around toxic
to all life.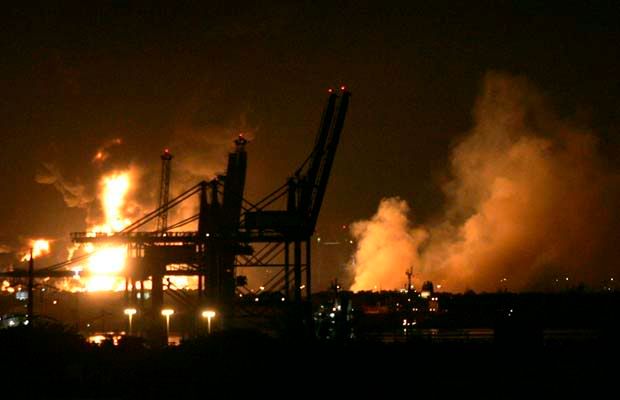 More? See:
Why the U.S. Still Can't Get BP to Do What's Necessary
Israel is indicating it plans to ease the blockade of Gaza
as the Iranian ported Gaza relief ships close in on their territorial waters.
The US has recognized the Shinnecock Native Americans
on Southern Long Island New York paving(sic) the way for the tribe to build a casino. More on New York's tribal groups
here
Proposition 8 is in a California US District court for the final arguments
today. There are 25 specific questions the judge wants both sides to have answered. This case will undoubtedly end up in the 9th Circuit Court, and probably go on to the US Supreme Court.
-30-
Audio hosting courtesy of: [www.archive.org]Travus T. Hipp's Commentary Archive Is [ Here]Search the archive by topic [
Here
]Cabale News RSS Feed Via Internet Archive
Creative Commons CopyrightCabale New Service, KPIG Radio, and KVMR radio.Listen to KVMRRecorded & transcribed by Da' Buffalo Amongst WolvesPostings Da' Buffalo, Razer, and Auntie Imperial Have Done Lately Are [Here]The Consolidated Items Listing in RSS format [Here]
In accordance with Title 17 U.S.C. Section 107 and The Berne Convention on Literary and Artistic Works, Article 10, the news clippings, audio, and images used in this posting are made available without profit for research and educational purposes.
---
There Have Been
Visitors To Razed By Wolves & Cabale News
Thanks For Stopping By
.
.