Wednesday, January 6, 2010
In The News:Two
schools of thought on Yemen. Some say the offensive by the Yemeni army is more show than go, but others say the leader of AQ on the Arabian peninsula is surrounded. The Yemeni government is resentful that the Western powers have shut their embassies (albeit the US CLAIMS its embassy as reopened)
There
will be no more Guantanamo transfers to Yemen for the moment, There are 138 Yemeni nationals in that concentration camp. More:
Barack Obama vows Guantanamo closure but halts Yemen transfers
AFP 6 January 2010

"Given the unsettled situation, I've spoken to the attorney general and we've agreed that we will not be transferring additional detainees back to Yemen at this time," Obama said in a televised statement.
But president Obama DID say:
"Make no mistake. We will close Guantanamo prison, which has damaged our national security interests and become a tremendous recruiting tool for al-Qaida," Obama said.

"In fact, that was an explicit rationale for the formation of al-Qaida in the Arabian Peninsula," Obama said, naming the Yemen-based group that he has blamed for training and alleged bomber Umar Farouk Abdulmutallab." [In Full]
In
In other words, Obama has admitted that a U.S. institution was a main causation of al Qaeda terrorism committed on Americans.
Think about that...
More
on the Guantanamo captives, courtesy of
Juan Cole @ Informed Comment
Guantanamo: The Definitive Prisoner List (Updated for 2010)- Andy Worthington

(Andy) Worthington has updated his invaluable list of Guantanamo prisoners, including those released. He shows that most were arrested arbitrarily and were probably innocent.

He has also recently argued against the anti-Yemen hysteria of recent weeks being used as a pretext for not releasing dozens of Yemenis against whom no case for guilt could be built by prosecutors." (see: http://www.truthout.org/1230094)
[In Full]
China
takes over the chair of the UN Security Council, meaning more sanction on Iran will most likely have to wait.
Yesterday
Obama called 20 of his national security people to the woodshed regarding the "Underwear Bomber", how easily US homeland security was breached, how they had failed in their tasks to protect the nation, and informed them there will be repercussions for their careers.
The
latest in US political news... The 'Old Guard' moves on. Senators Dorgan and Dodd announce they will not run in the next elections.
Bad news and GOOD news
in the war on illegal Japanese Whalers in Antarctica: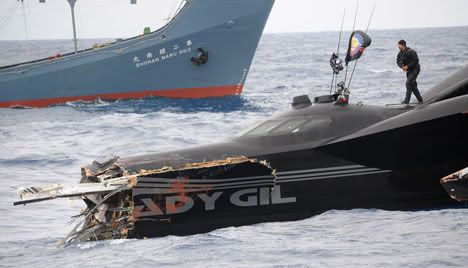 According to a reported statement by the Sea Shepherd Conservation Society, a Japanese vessel alongside the Nisshin Maru whaler
slammed into the activists' high-tech speed boat, the Ady Gil
, slicing off a piece of it. Reports said the boat is unsalvageable. The six member crew (five from New Zealand and one from the Netherlands) were rescued by another Society Vessel (the Bob Barker), reports said. [
In Full
]
According to the news release by Sea Shepherd "...
in an unprovoked attack captured on film, the Japanese security ship Shonan Maru No. 2 deliberately rammed
...".
At some point in the very near future, expect that film to be public, and available for all agents and governments responsible for International Maritime Law to view.
However
, the Sea Shepherd Conservation Society STILL has a posse:
Read about Sea Shepherd's new vessel here.
[
After the Commentary, an outlaw tale, as told by Cat Mother and The All Night News Boys... The Paranoid Papers: Outdoor Man/This Land/Roll Wheels Roll (available here @ raremp3.co.uk). Courtesy of the respective artists and KPIG radio Freedom California Earth
]
-30-
Audio hosting courtesy of: [www.archive.org]Travus T. Hipp's Commentary Archive Is [ Here]Search the archive by topic [
Here
]Cabale News RSS Feed Via Internet Archive
Creative Commons Copyright
Cabale New Service, KPIG Radio, and KVMR radio.
Listen to KPIG
,
Listen to KVMRRecorded & transcribed by Da' Buffalo Amongst Wolves

In accordance with Title 17 U.S.C. Section 107 and The Berne Convention on Literary and Artistic Works, Article 10, the news clippings and images used in this posting are made available without profit for research and educational purposes.
---
Related @ IceRocket:
Travus T. Hipp
,
Cabale News Service
,
KPIG
,
Politics
,
News
,
Alternative News
,
U.S. Foreign Policy
,
U.S. Domestic Policy
,
Breaking Politics News
,
Realpolitik
,
Republican Family Values
,
Social Justice
There Have Been
Visitors To Razed By Wolves & Cabale News
Thanks For Stopping By
.
.