Friday, December 11, 2009
In The News:
When Jimmy Carter handed the reins of the US government over to Ronald Reagan in 1981 the national debt was $671 billion dollars... it is now at the point where the US government has raised the debt limit to $14 TRILLION dollars which indicates a $120 billion dollar deficit a month. More.
Speaking of BIG bucks... In conference committee at the House of Representatives there has been an agreement on a $221 billion dollar spending bill. It will now go to the Senate and from there, the president.
As fighting continues in our AfPak war, 16,000 US troops have received their deployment orders and will begin arriving in Kandahar Afghanistan next week. The Pentagon has stated that a drone attack has taken out a top al Qaeda leader in Pakistan, but there is no way to confirm that. A while back the Pakistan government has reported that drone attacks over the last year has killed 647 civilians, and 12-14 ALLEGED 'al Qaeda' operatives. One wonders how that compares to the civilian/combatant kill ratio during the carpet bombing of North Vietnam.
President Zelaya of Honduras has been given "permission to leave the country" to go into exile... if he goes as an individual-in-exile, not president-in-exile... Currently, Mexico seems to be the destination of choice.
Da' Buffalo's pick-of-the-day...
Being From The "1st World" Means Never Having To Take Responsibility For The Damage To The Environment Your Society Causes:
Copenhagen climate summit in disarray after 'Danish text' leak
The so-called Danish text, a secret draft agreement worked on by a group of individuals known as "the circle of commitment" – but understood to include the UK, US and Denmark – has only been shown to a handful of countries since it was finalised this week. [In Full]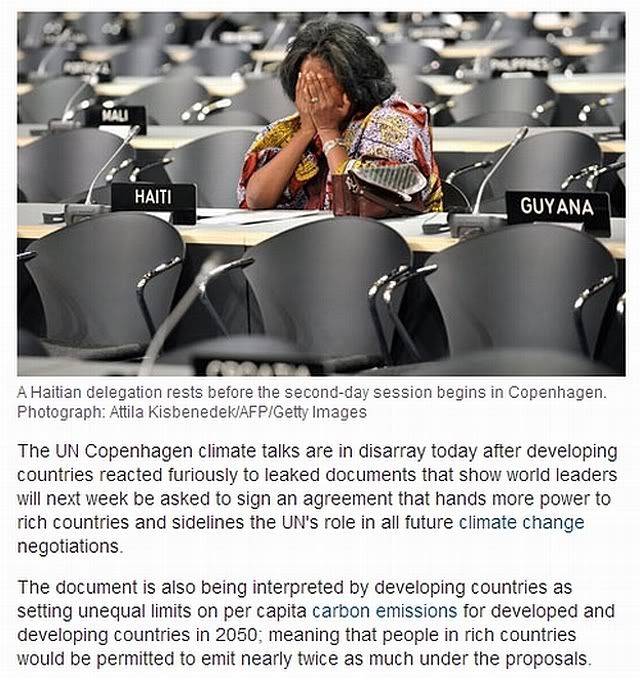 -30-
Audio hosting courtesy of: [www.archive.org]Travus T. Hipp's Commentary Archive Is [ Here]Search the archive by topic [
Here
]Cabale News RSS Feed Via Internet Archive
Creative Commons Copyright
Cabale New Service, KPIG Radio, and KVMR radio.
Listen to KPIG
,
Listen to KVMRRecorded & transcribed by Da' Buffalo Amongst Wolves
---
Related @ IceRocket:
Travus T. Hipp
,
Cabale News Service
,
KPIG
,
Politics
,
News
,
Alternative News
,
U.S. Foreign Policy
,
U.S. Domestic Policy
,
Breaking Politics News
,
Realpolitik
,
Republican Family Values
,
Social Justice