Tuesday, December 8, 2009
In The News:
Despite a missing few seconds of 'streamage', Da Buffalo has decided to run with Travus' 7am news due to a wider variety of items covered at that time.
There have been coordinated bombings throughout Iraq including a school, killing a number of students. So far,
90 people have been confirmed dead and 115 wounded
. Either the Sunnis and the Baathist elements of Iraq are trying to make a statement that they aren't out of the picture or SOMEONE is trying to set the stage to slow down or halt the withdrawal of American troops from the country.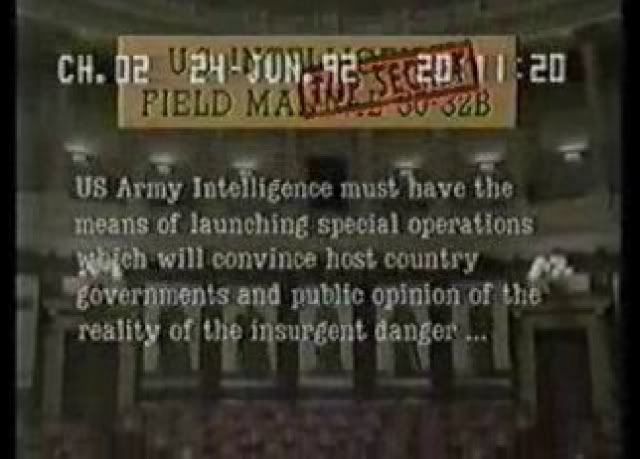 If you want to know what Da Buffalo means by that, click the image above or the "In Full" link below for a BBC series aired in 1992 about Operation Gladio [
More information @ Wikipedia
].
This BBC series is about a far-right secret army, operated by the CIA and MI6 through NATO, which killed hundreds of innocent Europeans and attempted to blame the deaths on Baader Meinhof, Red Brigades and other left wing groups. Known as 'stay-behinds' these armies were given access to military equipment which was supposed to be used for sabotage after a Soviet invasion. Instead it was used in massacres across mainland Europe as part of a CIA Strategy of Tension. Gladio killing sprees in Belgium and Italy were carried out for the purpose of frightening the national political classes into adopting U.S. policies. [In Full]
In the OTHER war,
General McChrystal is before congress
explaining what his strategy and goals for our Afghanistan war might be. More. PLEASE NOTE: (There Are)
No Firm Plans for a U.S. Exit in Afghanistan
[NY Times]
Speaking of 'goals'... Here's the original (and I suspect unchanged) goal for Afghanistan as stated by Unocal Corporation's VP of International Relations in testimony before the US House of Representatives International Relations Committee on the Afghanistan pipeline (circa 1998).
"One obvious potential route south would be across Iran. However, this option is foreclosed for American companies because of U.S. sanctions legislation. The only other possible route option is across Afghanistan, which has its own unique challenges.

The country has been involved in bitter warfare for almost two decades. The territory across which the pipeline would extend is controlled by the Taliban, an Islamic movement that is not recognized as a government by most other nations. From the outset, we have made it clear that construction of our proposed pipeline cannot begin until a recognized government is in place that has the confidence of governments, lenders and our company.

In spite of this, a route through Afghanistan appears to be the best option..." [In Full... ]
The UnoCal testimony begins on page 31, but the whole document is a fascinating look at US geopolitical and energy strategy for Central Asia, India, and Pakistan. It's notable the current (illegitimate) 'president' of Afghanistan, Hamid Karzai was a consultant for UnoCal.
The Mall OF America, one of the biggest shopping malls in America got a visit from from Republican EX- vice presidential candidate Sarah Palin for a book signing and
someone threw tomatoes at her
, missing, and striking an officer.
The EPA has
declared CO2 a hazard to human health
allowing them to regulate greenhouse gases. All the grandfather-ed coal-fired power plants are now due for economically unfeasible renovation or the wrecking ball.
In Iran, it's Student Day memorializing the killing of students by the Shah's army and his secret service SAVAK.
There are demonstrations in the streets
.
Friends, It's COLD outside. Admittedly, not ALL of California enjoys the balmy year-round temperatures as seen on BayWatch(San Diego), but even still... Freezing at sea level is not the norm for the central coast of the state no matter the time of year.

There ARE colder places though... Antarctica... and as of yesterday, The flagship vessel of the
Sea Shepherd Conservation Society
, the Steve Irwin,
set sail from Fremantle Australia
for that forbidding region of the world with intent to "...sink the Japanese whaling fleet economically, by cutting into their profits.".
Harrrgh Matey! This ain't Gilligan's Island.
Indeed, the world will get to watch as the butter bombs fly and
Sea Shepherd Conservation Society's new 'Border Collie' the Ady Gil
(
formerly 'Earthrace' an alternative powered trimaran that set the world speed record for circumnavigating the earth
) 'cut's 'em off at the pass', the 'harpoon-gun pass', by putting itself between the harpoon boats and the Whales (
Last year's viewing here
) because Animal Planet TV network renewed the 'Whale Wars' series for a third season.
Please write them, or go to their website and fill out the contact form, thanking them for their support and publicity.
This year's viewing schedule will appear here
.
-30-
Audio hosting courtesy of: [www.archive.org]Travus T. Hipp's Commentary Archive Is [ Here]Search the archive by topic [
Here
]Cabale News RSS Feed Via Internet Archive
Creative Commons Copyright
Cabale New Service, KPIG Radio, and KVMR radio.
Listen to KPIG
,
Listen to KVMRRecorded & transcribed by Da' Buffalo Amongst Wolves
---
Related @ IceRocket:
Travus T. Hipp
,
Cabale News Service
,
KPIG
,
Politics
,
News
,
Alternative News
,
U.S. Foreign Policy
,
U.S. Domestic Policy
,
Breaking Politics News
,
Realpolitik
,
Republican Family Values
,
Social Justice