Friday, November 27, 2009
In The News:
Thanks this morning to ChrisM, my MP3Angel, for supplying s backup copy of the commentary.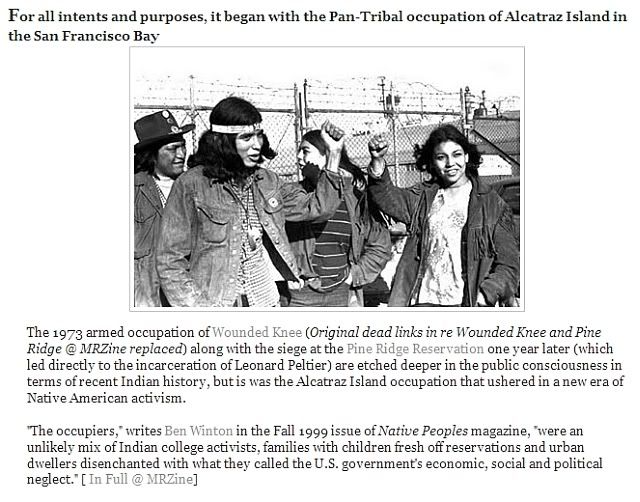 40 years ago today, a Pan-Tribal group of American Indians occupied Alcatraz Island a former penal complex in the San Francisco Bay, under the terms of the Fort Laramie Treaty, which allows Native Americans to reclaim surplus federal land (which it was)... and after months of embattled occupation, they were forcibly removed from the island, and the treaty was broken again. This time, yesterday, everyone took the ferry and
attended a commemorative event
.
Click the image, or
HERE
, for more on the occupation, and it's aftermath, the US government's siege of the Pine Ridge reservation in South Dakota, the harassment of the AIM organization, and the imprisonment on nebulous charges of Leonard Peltier, now the longest held parolable inmate in the federal prison system.
Details are scarce about a British agreement to extradite an autistic citizen, perhaps a chid, who had hacked the Pentagon's computer system looking for proof of aliens.
The new government of Japan wants to re-negotiate their defense treaty with the US including a secret agreement allowing the US allowing nuclear weapons to be moved, and perhaps staged, on their territory.
It's "Black Friday! BUY BUY BUY! but note... Dubai, a country who just a year or two ago was building artificial archipelagos resembling the constellations and continents of earth for the construction of homes for the super-riche', has requested a six month delay in payment of debts to banks in Asia and the US. The financial markets are nervous.
...and on a rainy day in Santa Cruz California, and along the California coast, the surf's up.. Really Up... BE CAREFUL!
-30-
Audio hosting courtesy of: [www.archive.org]Travus T. Hipp's Commentary Archive Is [ Here]Search the archive by topic [
Here
]Cabale News RSS Feed Via Internet Archive
Creative Commons Copyright
Cabale New Service, KPIG Radio, and KVMR radio.
Listen to KPIG
,
Listen to KVMRRecorded & transcribed by Da' Buffalo Amongst Wolves
---
Related @ IceRocket:
Travus T. Hipp
,
Cabale News Service
,
KPIG
,
Politics
,
News
,
Alternative News
,
U.S. Foreign Policy
,
U.S. Domestic Policy
,
Breaking Politics News
,
Realpolitik
,
Republican Family Values
,
Social Justice